Lens maker Tamron today announces image sensor that is more sensitive then Human eyes. The sensor requires only luminance of 0.003lx.  to create images.
Not only sensitivity the sensor also features excellent dynamic range and your night shots now not blown out by headlights. Sensor was designed by Tamron itself. The sensor of the camera uses in-house developed algorithm and its optical technologies.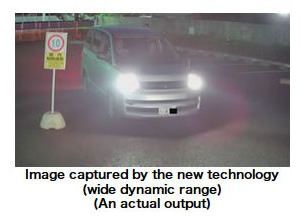 Tamron Dynamic range demo. The sensor able to grab excellent amount of details while capturing the car headlights at night.
For more details do read the press release below
Tamron Co., Ltd. (Headquarters: Saitama City, Japan; President & CEO: Shiro Ajisaka), an integrated optics manufacturer announces successful development of an innovative technology, with support of Japan Science and Technology Agency (JST) of National Research and Development Agency, that enhances imaging capability far exceeding that of human vision, with critical consistency established between ultra-high sensitivity and wide dynamic range.
This technology is aimed at consistent enhancement of ultra-high sensitivity and wide dynamic range, which has been considered difficult in the past. The ultra-high sensitivity technology enables capturing clear full-color images even under an extreme low brightness of 0.003 lux, which is darker than starlight. The wide dynamic-range performance assures luminance resolution of a range of brightness in excess of 140 dB (a lightness-and-darkness difference of 10 million times).
Consistent implementation of these two technologies opens a new imaging potential that enables vision far beyond human visual capability.
Key Elements of Technology
Three key technologies – Optics, Image Sensor, and Image Processing – have been identified essential, and their effective integration has been studied for the new imaging technology.
Optical Technology
Development of an extremely low-reflection technology to suppress optical artifacts that arise in ultra-high sensitivity and wide dynamic range, and optical focusing system optimized for imagers.
Image Sensor Technology
A proprietary low gain-noise, wide dynamic-range CMOS image sensor was originally developed.
Image Processing Technology
Development of a digital noise-reduction technology that does not compromise the resolution of an object in focus or under motion, and a dynamic brightness-range technology that enables luminance resolution for an extreme wide range of low and high brightness.
source – Tamron