We have compared all the (best) mid-range travel zoom camera available in market today – Canon SX520 HS vs Nikon P530 vs Sony HX300, the specification of Sony HX300 really impressed us.. take a look at the specification details below…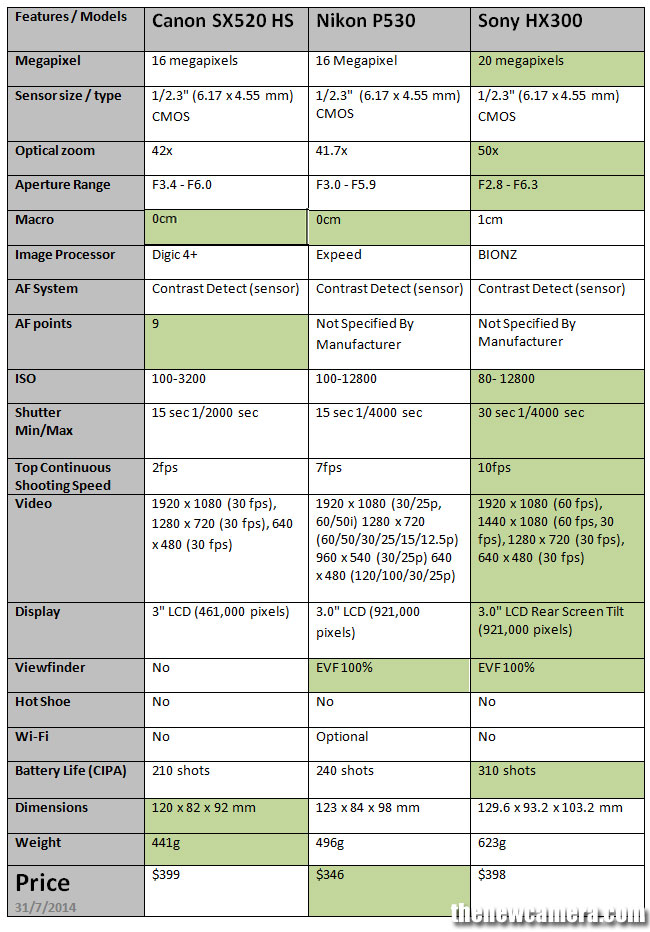 Out of all these three camera only Sony HX300 features 50X optical zoom lens whereas Canon and Nikon limited to 42X optical zoom, the wide-end  aperture range of Sony is better than Nikon and Canon and Sony also features very broad ISO range from 80-12800. Based on specification sheet Sony HX300 will provide better image quality and more zoom than Canon SX520 HS and Nikon P530.
Macro shooting is bit better with Canon and Nikon since they both support 0 cm macro focus range on the other side Sony limited to 1 cm.
Again when if we look at continuous shooting speed, video recording and display system Sony clearly wins here.
Verdict: Sony features better core specification compared to its competitors, we recommend you to go with Sony HX300 camera.
The Price of Sony HX300 is Similar to Canon SX520 HS and bit less than Nikon P530.
Buy Sony HX300 from Amazon || B&H   —-  Buy Nikon P530 from Amazon   —