Canon G1X Mark II features newly developed 1..5 inch CMOS sensor and on the other hand the Sony RX100M2 features 1 inch sensor, the other major difference is the size, the size of Canon G1X is really bit bigger than your pocket slim Jeans pocket and demands a large Jacket pocket.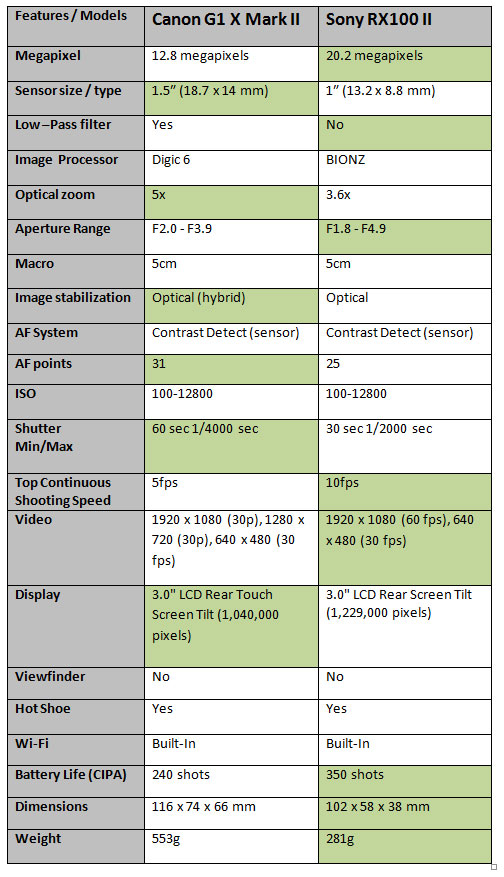 Sensor size: The Canon features bigger sensor size and less megapixels compared to Sony RX100 M2,
Bigger sensor size collects more light in the sensor area compared to the smaller one and hence you get better low light performance and greater color depth.
Bigger Photodiodes in Canon G1X Mark II Sensor: Photodiodes are the part of the sensor that's actually sensitive to light, a photodiode converts light (photons) into electricity (electrons).  Sony 1 inch sensor have approx 20 million photosites, and on the other hand the Canon G1X Mark II have 1.5 inch sensor and 12  million photosites, bigger sensor can obviously collect a lot more light per pixel –  Canon G1X Mark II is bigger and will collect more light compared to Sony RX100 M II.
 No-optical low pass filter – Sony RX100 M2 have no optical low pass filter inside hence you will get more sharp images when compared to Canon G1X Mar II
AF system: Both camera features Same contrast based AF system, but Canon comes with more AF points compared to RX100 M2. The newly developed AF system of Canon G1X Mark II is approx 2X faster than its predecessor. The PowerShot G1 X Mark II also supports 1-point and Touch AF.
Lens: Canon features more optical zoom lens than Sony, but Sony with limited zoom gives you more bit bright lens at the wide-end.
Image Stabilization: Canon features Hybrid Image Stabilization system , it include Panning IS, Macro (Hybrid) setting specifically corrects for shift-type shake, Dynamic mode IS for Video,  Powered IS active while using telephoto zoom and Active Tripod mode corrects minor amount of camera shake, Sony RX100 M2 have Optical SteadyShot image stabilization that works Active 3-Way stabilization works on clockwise and counter-clockwise movements only.
Fast Continuous Shooting Speed: Sony offers fast continuous shooting of 10fps, Canon G1X limited to 5fps only.
Display: Canon features high resolution fixed touch screen and Sony have tilting touch screen (no touch), with Canon G1X its easy to quickly access the main menus… so final choice is your which type of screen you prefer.
Both camera features built-in WiFi and NFC that enables remote shooting and wireless transfer of images .
Size and Weight: Sony RX100 M2 lighter and smaller than Canon G1X Mark II, +1  it will also comes with more battery life, suitable for travel photographers.
More Manual Controls in Canon G1X Mark II: Canon G1X Mark II comes with Dual Control Rings, inner ring is stepped and can be directed to set aperture value, shutter speed and exposure compensation and the outer, continuous ring gives you full control over the AF of the camera.
Verdict: Based on Specification Comparison review we recommend you to buy Canon G1X Mark II camera since it will give you better image quality than Sony RX100 M2 camera, but if you are a travel photographer and need a ultra slime camera for your pocket than Sony RX100 M2 is a excellent choice.
Pre-order / Buy your camera now
Buy / Pre-order Canon G1X Mark II from Amazon || B&H
Buy Sony RX100 M2 from Amazon