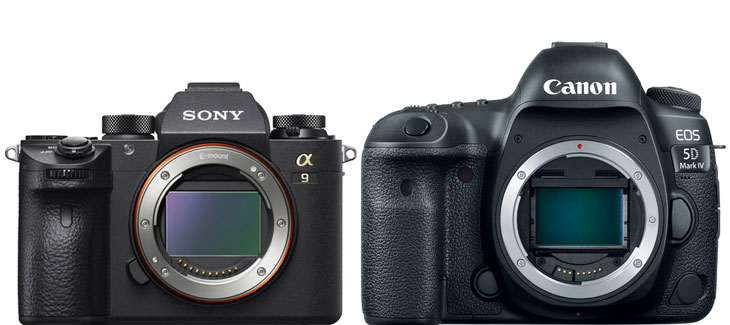 Sony A9 vs Canon 5D Mark IV – Specification comparison between two of the most popular camera of all time.
Feature/Models
Sony A9

Canon 5D Mark IV

Megapixel
24

megapixels




30.4 megapixels

Sensor size
Full frame (36 x 24 mm)
Full frame (36 x 24 mm)
Image processor
 Bionz X


DIGIC 6+

Low pass Filter
No

No

AF system
Contrast detect+ Phase detect
Contrast Detect+ Phase detect
AF points
693
61
ISO

ISO 100-51200 (expands to 50-204800)

50-102400
Shutter speed
1/32000 to 30 sec


1/8000 to 30 sec

Image Stabilization
5-axis
 None
Continuous shooting speed
 20fps

7fps

Video
4K @30 fps (3840 x 2160)
4K Video at 30 fps (3840 x 2160)
Display
3.0″ 1.44m-Dot Tilting Touchscreen LCD


3.2″ 1.62m-Dot Touchscreen LCD Monitor

Hot shoe
 Yes
 Yes
Wireless
Built-in
Optional
Environmentally sealed
yes
yes
Battery life
650 shots
900 shots
Weight

673 g

890 g

Size

127 x 96 x 63 mm

151 x 116 x 76 mm
Sony A9 is one of the best mirrorless camera Sony every minute till date that is also one of the best DSLR available
Sony A9 vs Canon 5D Mark IV.  both camera are made for professional  users , however the design of both the camera is entirely different,  Canon 5D Mark IV is slightly bigger, heavier and bulkier where is Sony A9 is more compact and easy to handle for longer periods of time due to 200 grams of less weight.
Once you install the battery grip in Canon 5D Mark 4 or Sony A9 then the overall size of both the camera becomes twice as big compared to the Sony Alpha A9 mirrorless camera.
No Top LCD in Sony A9: If you are a professional DSLR user from a long time then for sure you are going to miss the top LCD display screen in Sony A9 full frame mirrorless. Whereas as the Canon 5D Mark 4 camera do have top LCD panel display as it can be found in professional DSLR Canon and Nikon.
The images you say never give your idea that how would the DSLR and mirrorless will look in front of each other.
1. Sensor resolution
Let's talk about this answer about the camera the Canon 5D Mark IV offers you a 13 megapixel full frame sensor that features dual pixel CMOS AF Technolog. DPAF  technology helps you to acquire AF in no time.
Sony A9 will going to give you 24mp resolution where as the Canon 5D Mark IV offers 6 megapixels more that is 30 Mp resolution sensor.  we do know that resolution doesn't matter at some extent but it is helpful when you have some extra megapixels in your hand.  One of the biggest advantage I have seen by having higher resolution That you get more details in the image when viewed at 100%.
2. Auto focusing system
Not only dual pixel CMOS AF sensor the camera also features a dedicated Phase AF module with 61 AF points that enable dual auto focusing system in Canon 5D Mark 4 camera. The Sony A9 on the other side features 693 AF points, hence you get 632 more AF points with Sony A9 camera.
Having more number of photo focusing point is definitely a big advantage when you are shooting a sports event. The more AF point you have and the more screen coverage you get. Hence you never miss a shot.
3. 20.0fps vs 7.0fps
One of the biggest advantage of Sony A9 camera is its continuous shooting a speed of 20 frames per second with auto focusing support. Canon 5D Mark IV continuous shooting speed remains limited to 7 frames per second only
Having 13 frames per second continuous shooting speed is really a great advantage If you shooting a sports event just imagine you are getting 13 frames extra every second the amount of extra shots you are getting is insane. Sony A9 is definitely perfect machine and highly recommended to sports Shooters.
4. ISO Range

The Canon 5D Mark IV sensor pixel is bit smaller compared to Sony A9,  theoretically the Canon 5D Mark 4 camera will going to show bit inferior noise management at high ISO range when compared to Sony A9.
204.800 vs 102.400
As you can notice the ISO range of Sony A9 is  204.800 vs 102.400 of 5D Mark IV. Hence you are getting larger pixels with A9 as well as more ISO range, so we assure you that you will get better noise performance at high ISO range.
5. sensor image stabilization
The biggest advantage in getting Sony A9 camera is your getting on sensor images stabilization system that will going to work very effectively.  A9 features Industry best 5 Axis shake correction mechanism inside it. Not only that if you insert image stabilization based lenses then the camera will going to synchronized with that lenses and you are getting image stabilization upto 5.5 stops In some specific lenses
Unfortunately the Canon 5D Mark 4 doesn't have any built-in image stabilization system and for that you have to use Image stabilization based lenses. but keep in mind that Canon image stabilization work only in x and y axis.  where is the Sony camera based image stabilization system works in 5 axis so it is more effective and helpful during low light condition.
Conclusion: is left for you, do write your own conclusion in the comment box.