Here we will discuss the Why Sony Mirrorless is Better than Sony SLT Technology. I will keep this article short to tell you the downside of the SLT technology used by Sony in its SLT series camera.
Now before we begin take a look at the image sensor below.
The sensor you see above is the same sensor used inside the Sony A99 II and Sony A7R II camera. The sensor features 42 Megapixels of resolution and 399-point focal-plane AF system located on the image sensor.
Difference between SLT and Mirrorless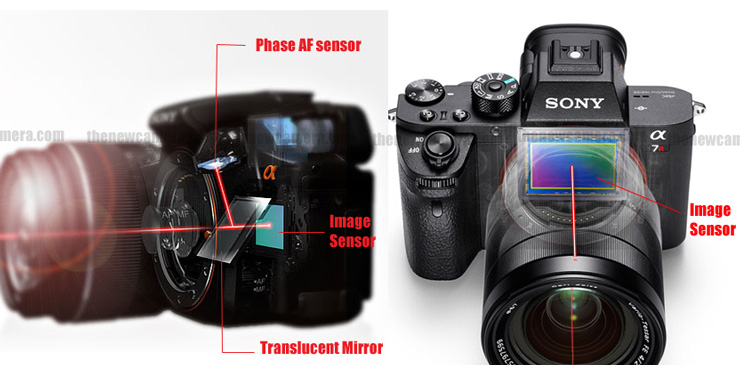 As you can see in the image the SLT technology uses a fixed translucent mirror inside that redirects some portion of light to the dedicated Phase AF sensor of the camera. Whereas the Mirrorless technology delivers 100% light to the sensor.
Which one is better: SLT or Mirrorless  ?
Before speculating the percentage of light used by the mirror let's see the sensor test score of both the camera carrying same sensor. The test Conducted by DXOMark Lab.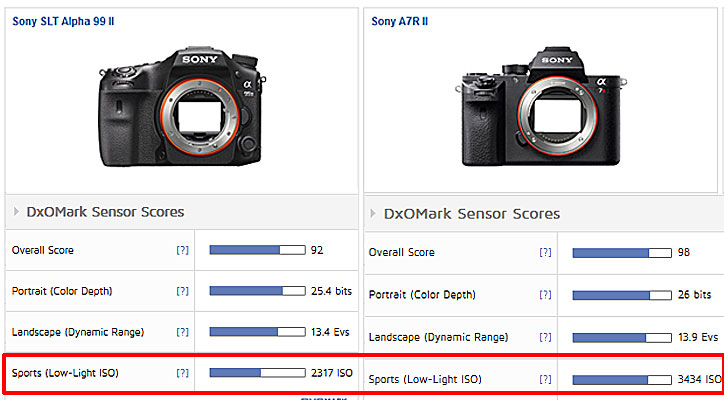 Sony A7R II outperformed Sony A99 II During Test
As you can see the low light ISO score of Sony A99 II camera is 2317 only whereas the low-light score of Sony A7R II camera is 3434. And not only low-light ISO the Dynamic range, Portrait and Overall score of the Sony A7R II camera is better than the Sony A99 II camera.
As you can see the result of same sensor inside two different camera body, which is completely different compared to each other. The fixed translucent mirror grabs out a good amount of light before reaching to the sensor and in-turn you get inferior image quality.
---
Sony A99 II is recommended when..
you want to shoot sports and birds on flight, the dedicated phase AF sensor works in-collaboration with 399-point on-chip focus system of Hybrid CMOS AF sensor.
| | | |
| --- | --- | --- |
| Features | Sony A99 II | Sony A7R II |
| | 12 FPS with continuous AF | 5 FPS with continuous AF |
You can see the Sony A99 II offers continuous AF drive of 12fps with fulltime AF tracking whereas the Sony A7R II remains limited to 5fps of continuous shooting speed with AF tracking.