Sony A68 is recently announced camera features high end specification on the other hand the Nikon D5500 is a hard-core DSLR camera , take a look at the specification comparison review below…
| | | |
| --- | --- | --- |
| Features / Models | Sony A68 | Nikon D5500 |
| Megapixel | 24 megapixels | 24.2 megapixels |
| Sensor size / type | APS-C (23.5 x15.6 mm) | APS-C (23.5 x 15.6 m) |
| Low –Pass filter | Yes | Yes |
| Image Processor | Bionz X | Expeed 4 |
| AF Points | 79 including 15 Cross-type AF Points | 39 points 9 Cross-type AF Points |
| Image stabilization | Built-in | No |
| AF System | Contrast Detect + Phase detect | Contrast Detect + Phase detect |
| ISO | 100-25600 | 100-25600 |
| Shutter Min/Max | 30 sec 1/4000 sec | 30 sec 1/4000 sec |
| Top Continuous Shooting Speed | 8fps | 5fps |
| Video | 1920 x 1080 (60p, 30p) | 1920 x 1080: 60 fps, 50 fps, 30 fps |
| Display | 2.7″ LCD Rear Touch Screen | 3.2″ Rear Touchscreen Swivel  LCD (1,037,000) |
| Viewfinder | EVF 100% | Optical pentamirror (95%) |
| Hot-shoe | Yes | Yes |
| Battery Life (CIPA) | | 480 shots |
| Environmentally sealed | No | Yes |
| Dimensions |  143 x 104 x 81 mm | 143 x 104 x 81 mm |
| Weight |  690g | 647g |
Sensors:- Both camera features sensor made by Sony however both of them built over different technological background, the Sony uses SLT technology. The camera built with a uses a fixed translucent mirror inside and Nikon D5500 is a DSLR that moves its mirror up every time when shutter is clicked.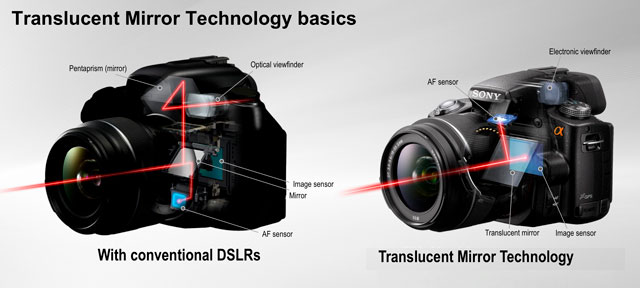 As you can see the image the SLT A68 mirror is fixed so the mirror will absorb 10 of light that will sure effect the image quality of the SLT.
Both the cameras Sony A68 and Nikon D5500 have almost the same resolutions of 24MP.
Sony A68 has CMOS sensor along with the advanced Bionz X image processor; works together to produce high resolution images with better color combination in various situations .While Nikon D5500 works with the EXPEED 4 processor and APS-C CMOS Sensor to produce the images with high quality.
Sony A68 will perform well in low-light conditions with more accuracy along with the reduction in noise compare to Nikon D5500.
Also the sensors of both the cameras are designed in such a way that there will be no need of optical low-pass filter and hence the sensor is sufficient to acquire more detailed subjects along with sharpness.
The difference in technologies of both the image processor of the cameras will definitely affect the image quality as well as processing speed of the cameras.
AF System:- Sony A68 has 79 points AF System which includes 15 Cross-type AF , which shows quick response in the acquisition of desired subject in different range of lighting conditions while Nikon D 5500 has 39 points AF System including 9 cross type AF points , shows its low performance compare to Sony A68 due to less AF points.
Here, the inclusion of 15 Cross-type AF Points makes Sony A68 more superior compare to Nikon D 5500.
So due to the more AF points, the Sony A68 deserves to grab more AF area of the screen  and also the camera finds out and focus real subject instead of something else compare to Nikon D5500.
Image Stabilization:- Sony A68 has built-in image stabilization which helps to minimize the camera shake during shooting. It also reduces the unwanted hand shake during hand-held shooting along with various type of camera shake, and hence come back with better and impressive images during photography.
While such feature is not present in Nikon D5500, so the users don't any option to get impressive images with-out hand shake but they have totally rely on camera lenses they are using.
ISO:- Both the cameras have similar ISO of 100-25600. Hence the similar ISO supports both the cameras to capture the magnificent images even in low-light conditions with increased dynamic range.
Continuous Shooting Speed:- Sony A68 has continuous shooting speed of 8fps while Nikon D5500 has 5fps.
Videos:- Sony A68 as well as Nikon D 5500 capture Full HD video Hence both will give similar result and will definitely satisfy the users with impressive and better images.
Verdict: Sony A68 is recommended for sports shooter that gives you advance AF system and fast continuous shooting speed on the other hand Nikon D5500 will give you better image quality with more dynamic range.
Buy Sony A68 from Amazon | Nikon D5500 from B&H and Amazon