Samsung NX mini announced today, the camera system is based on 1 inch sensor format, similar to Pentax Q and Nikon 1 series, take a look at the specification comparison review below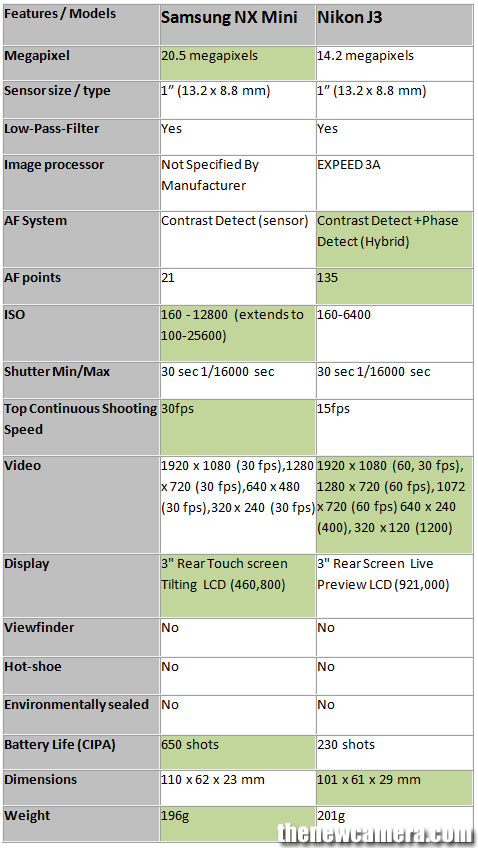 Samsung NX Mini features more megapixel than Nikon J3, but Nikon J3 have hybrid AF system and Samsung is limited to contrast based system you you will sure get fast AF speed from J3 camera when compared with Samsung NX mini,
Lack of mechanical shutter in Samsung NX Mini – The Samsung NX Mini doesn't have a mechanical shutter, the system software does all the job, the J3 have both type of Hybrid shutter mechanism (electronic + mechanical).
Better video recording option in J3 – The Nikon J3 offers you better video recording frame rate compared to Samsung NX mini,
Nikon J3 Continuous shooting with AF: Nikon J3 offers 15fps of continuous shooting speed with full resolution  and continuous AF on the other hand the Top shooting speed of Samsung NX Mini 30 fps without AF.
Display: Nikon J3 have better display unit.
Verdict: Samsung NX Mini is a excellent ultra slime mirrorless camera but the specification is not better than Nikon J3 camera.
Please also note that Nikon J3 update will arrive anytime soon, so we recommend you to hold your purchase if you are planning to buy a J3 camera and wait for a better version –> Nikon J4