Nikon V3 is a successor of Nikon V2 camera, the V2 have major upgrade in its core specification compared to Nikon V2 camera…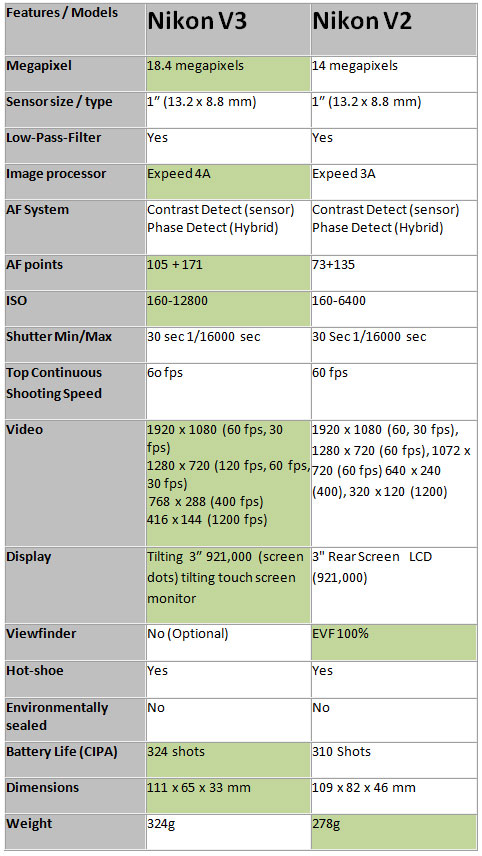 New Sensor and New Image processor:  The new sensor gives you more ISO range compared to the old one, hence you get better low light images and more resolution, and the new processor of Nikon D4s DSLR (optimized for Nikon 1 series) gives amazing speed boost to the camera.
Speed:
AF system of Nikon V3 is bit more advance, we get 105 Phase AF points and 171 contrast AF points in V3  and Nikon V2 have 73 Phase AF points and 135 Contrast AF points.
The Nikon V3 with more resolution is capable of shooting continuous shots with Full Time AF @ 20fps, in the other hand the Nikon V2 was limited to 15fps with bit low resolution.
Without continuous AF: Nikon V3 can shoot 60 frames per second @ 18 megapixels and Nikon V2 can also shoot 60fps @ 14 Megapixels.
Nikon V3 Canon Record HD Videos at a frame rate of 120fps, Nikon V2 limited to 60fps only.
Nikon V3 is missing  EVF, but you Canon but it if you need.
Verdict: We highly recommend you to buy Nikon V3 camera to our users, Nikon V2 may wait for Nikon V4 to see a major upgrade core specification.
NIKON 1 V3  Amazon | B&H Store |   ||