New Nikon mirrorless camera V1 and J1, which one you should buy and why? Do both the camera are same or different? See the comparison table to find out your answers.
Buy / Pre-order Nikon V1 and J1 at Amazon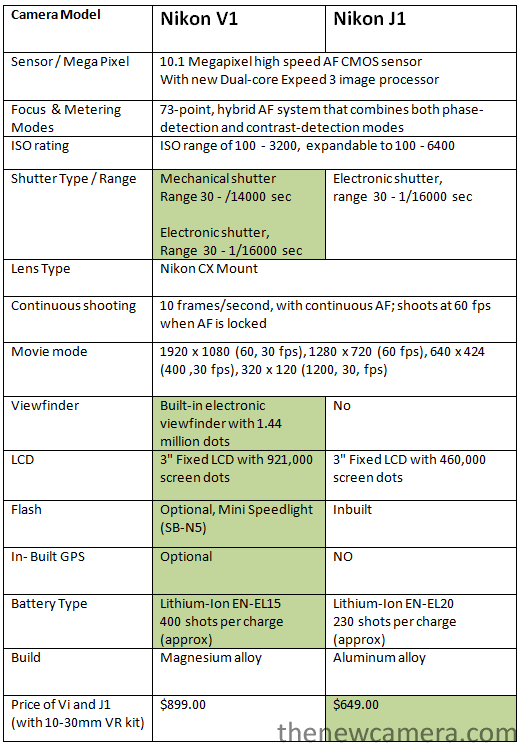 Same on both cameras – Nikon V1 vs. Nikon J1
The Nikon V1 and Nikon J1 share same 10.1 Megapixel high speed AF CMOS sensor With new Dual-core Expeed 3 image processor, Buy Nikon V1 or J1 you will get same image quality. Continuous shooting of both the camera are same, 10 frames/second, with continuous AF; shoots at 60 fps when AF is locked. Nikon V1 or J1 both record Full HD at 60fps, no difference here.
Now going over the main differences – Nikon V1 vs. Nikon J1
Nikon V1 for Serious Shooters:  Nikon V1 comes with a high resolution built-in electronic viewfinder, a better LCD panel, a mechanical shutter, stereo microphone jack, magnesium alloy body,  an multi-accessory port that accepts either a proprietary flash strobe, or a GPS unit and longer battery life.
The J1 seems to be more aimed at the compact camera market – it has a pop-up flash, no view finder, electronic shutter, an Aluminium alloy body and available in different colors.
Buy / Pre-order Nikon V1 and J1 at Amazon
---
Support New Camera
Buy Music CD or Digital Camera at amazon it helps this site, and you do not pay anything extra, it is just a way to help support this site.