Nikon V2 vs Nikon V1 Specification Comparison Review, Nikon announced its V2 mirrorless camera with new sensor and advance core specification, take a look at comparsion table below.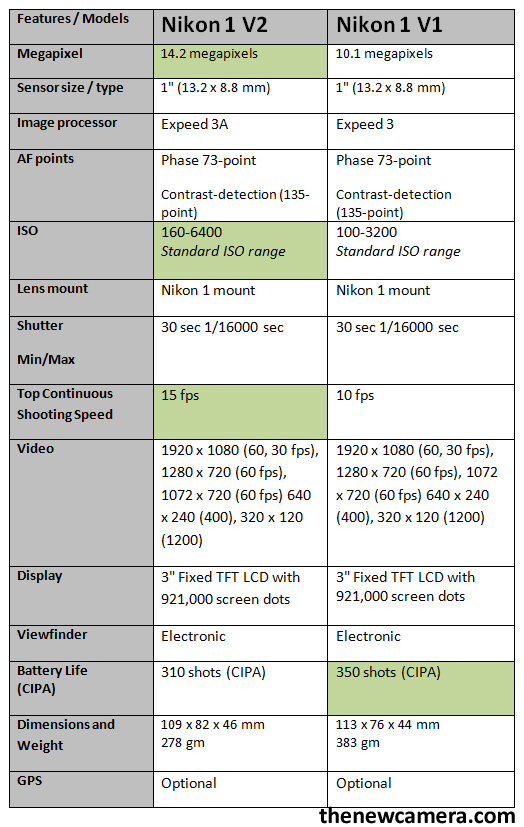 New Sensor and Image Processor: The Nikon V2 comes with latest image processing engine, EXPEED 3A, and a CMOS image sensor with built-in super high-speed AF and offering an effective pixel count of 14.2-million pixels, the V2 provides users with a higher pixel count, as well as faster speeds and greater performance.
ISO Range: Nikon V2 offers 160-6400 standard ISO range compared to V2 that offers 100-3200 standard ISO range, Nikon V2 wins here.
AF points: Both camera features SAME Hybrid Autofocus System provides both phase (73-point) and contrast-detection (135-point) autofocus for much faster focusing and shooting at up to 60 frames per second (with AF locked).
Rest all the other core specification is almost same.
New Features
The V2 is equipped with features such as an electronic viewfinder (EVF) and Live Image Control, which allows users to preview the effects of changes to camera settings in the camera monitor prior to shooting. It also supports direct application of settings and a new Slow View function, with which the camera captures a short sequence of still images and plays them back in slow motion, allowing the user to choose the frame that best captures the precise moment to be preserved. A number of other functions and features, including the advanced hybrid AF system, Motion Snapshot, Smart Photo Selector, and the full-HD movie recording function, have been greatly improved with the V2.
Conclusion: Nikon V2 offers better features and physical design compared to V1, But Nikon V1 users may wait for Nikon V3 to see some major difference in core specification.
Image Comparison – click on the images to enlarge




Support New Camera – Buy Products from Amazon

See also
Nikon J1 vs Nikon J2