Take a look at the High ISO test between the Nikon D750 vs Sony A7 II vs Sony A7s, the High ISO test is published by French website focus-numerique…,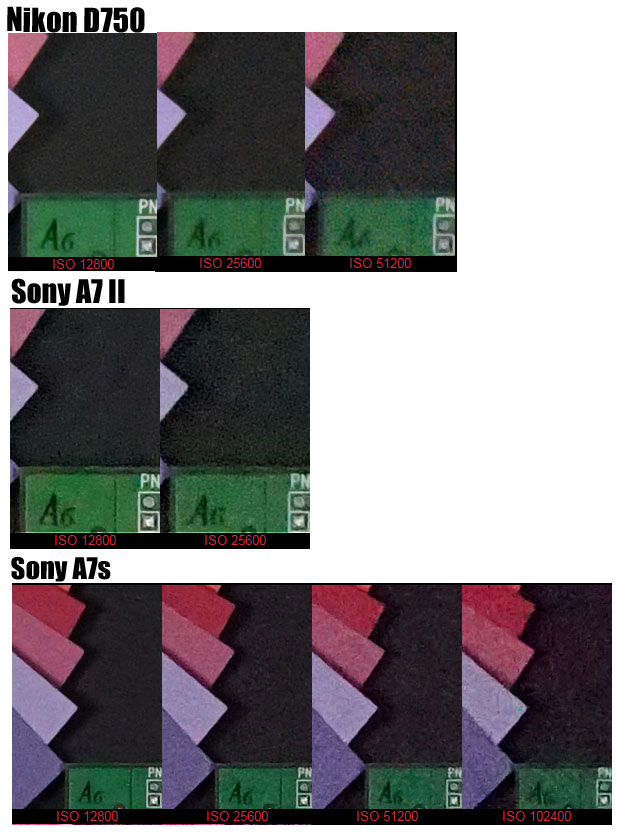 Before we start we must clear the basic that the Nikon D750 features 24.3MP FX-Format CMOS Sensor,  Sony A7 II has a 24.3MP Full-Frame Exmor CMOS Sensor and the Sony A7s built with a 12.2MP Full-Frame Exmor CMOS Sensor.
Out of all these three sensors the Sony A7 II only features hybrid CMOS Fullframe AF sensor with active phase AF points (and also the A7 II is world first fullframe mirrorless camera to feature 5-axis SteadyShot INSIDE image stabilization with 4.5 stops of compensation ), so if you are inclined towards sports photography you should go with Sony A7 II since both the A7 II and Nikon D750 have almost same image quality.
Sony A7s does showing better noise control compared to the other two camera, so if you want a lowlight monster you should buy the Sony A7s camera.
Also share your thoughts with us …
Buy at Amazon A7 II camera [Body only] A7 II camera [28-70mm]
Buy Nikon D750 at B&H Store || Amazon|