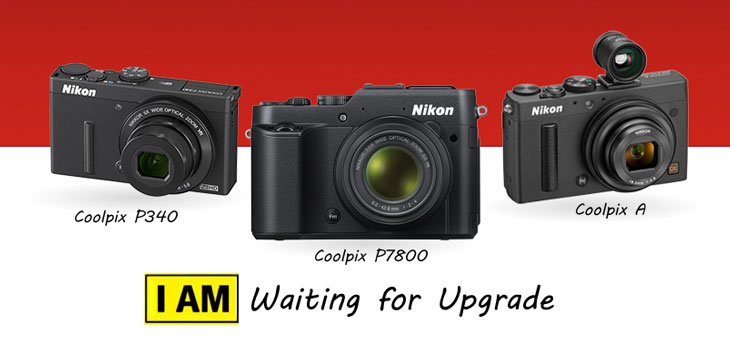 Nikon high-end compact cameras finally coming on CP+ show at February 2016.  According to latest rumors floating over the rumor websites the Nikon will soon announce three new compact camera with large sensors.
As we have published earlier also that Nikon coolpix range update is dead from almost 2 years so Nikon desprertly need to put a life in Nikon high*end compact series camera.
The Nikon P78000 was the last compact camera with 1/1.7inch sensor, we do expect a Nikon P8000 soon with large 1″ sensor and high end specification that matches the Sony RX100 and Canon GX series compact cameras with 1″ sensor.
Nikon coolpix A II update is also expected and at the mean time we do belive that Nikon will announce a new APS-C based compact camera with 24 Megapixel CMOS APS-C sensor and high end image processor.
Nikon may announce a completely new range of compact cameras with different names as Canon did a year ago and introduced new GX series line-up, Sony also announced new high-end compact series starting with RX keywords.
Based on latest rumor Nikon will announce at least two new latest models in the upcoming CP+ show in Japan (February 25-28).
Take a look at the list of expected core specification and cameras models
New line of premium compact cameras with a new name (not Coolpix for sure)
1″ sensor, but some models may have APS-C and even full frame (maybe in the future?)
Nikkor branded non-interchangeable lenses. The first three versions will be (35mm equivalent focal lengths):

Wide angle version: 18-50mm f/1.8-2.8
Normal range: 24-85mm f/1.8-2.8 (see lens patent here)
Superzoom: 24-500mm f/2.8-5.6

Compatible with Nikon Speedlights (cameras will have hot shoe)
Optional/external EVF
Wide range of accessories will be available
The new product line will be marketed as "always in your bag" and will be targeting advanced/semi-professional photographers
Why do believe the rumor we have received is true because Few months ago an interview to mobile01.com Nikon representatives said
Q: Any new Coolpix A? Any plans to respond to Canon and Sony's 1-inch sensor fixed-lens compact cameras?
A: Sony's 1-inch CSC is definitely very successful. We will have a competing product in the future.
Like Us at Facebook to get all latest updates —>
Source NikonRumor