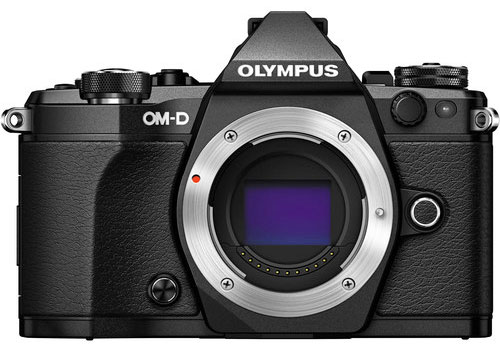 Olympus Finally announced the OM-D E-M5 II camera, the camera features redesigned 16MP Four Thirds sensor of E-M5 camera and advance 5-axis image stabilization. The Olympus E-M5 new features include 40MP image capture, the camera uses sensor shift technology and captures 8 images step b step to generate a large 40MP images, other specification include 10 Frames Per Second continues shooting speed and on the rear side we have articulating 3″ 1.04 million dot touchscreen LCD along with a 2360k-Dot Electronic Viewfinder, the built-in WiFi let you share you images without any physical pain. The camera comes with with a dust- and splashproof FL-LM3 flash.
Other optional accessories launched for the E-M5 II include
HLD-8 dustproof and splashproof power battery holder
EE-1 External Dot Sight
PT-EP13 Dedicated Underwater Case
The Olympus OM-D E-M5 II will be available this month for $1099.99 body-only.
Pre-order Olympus OM-D E-M5 II camera at Amazon || B&H Store
Press Release
Olympus Imaging Corporation (President: Haruo Ogawa) is pleased to announce the Olympus OM-D E-M5 Mark II, scheduled to go on sale on end of February, 2015. This Compact System Camera conforms to the Micro Four Thirds System standard, and is equipped with a 5-axis image stabilization that boasts compensation performance equivalent to 5 shutter speed steps*1.
The OM-D E-M5 Mark II is the successor model to the OM-D E-M5 which packs excellent SLR image quality and shooting style, and the world's first*2 5-axis image stabilization into a compact and lightweight body, exploring the new world of Compact System Cameras as the model that enables users to fully immerse themselves in shooting without taking their eye away from the viewfinder. The advanced, powerful, in-body image stabilization system achieving compensation performance of 5 shutter speed steps, and the dustproof and splashproof, compact, lightweight body, and lens systems providing excellent mobility, both ensure the top-class image quality for still images and movies in any environment taken hand-held with interchangeable lens camera.
Main Features
Powerful in-body 5-axis VCM image stabilization system of shutter speed steps of compensation*1
Compact, Dustproof and Splashproof camera body and lens system
OM-D Movie that provides cinema-quality movies in hand-held shooting
Main Features Details
1. Powerful in-body 5-axis VCM image stabilization system of 5 shutter speed steps of compensation*1
The powerful 5-axis VCM image stabilization is even more advanced than ever before. The E-M5 Mark II provides the most powerful compensation performance, equivalent to 5 shutter speed steps*1. Users can enjoy hand-held shooting without worrying about camera shake in low light places or during telephoto photography. It powerfully compensates for camera roll, which cannot be corrected with in-lens stabilization, and helps users capture blur-free photos even with dim-light and slow shutter speeds. It also provides the most powerful horizontal/vertical shift compensation, assuring stable hand-held macro shooting. This feature also prevents image shake in the viewfinder for stable framing, no matter what lenses you use.
The Zuiko lens produced by Olympus optical technology, the 16M Live MOS sensor bringing out the best in Zuiko image performance and providing rich tonal reproductions as well as high-sensitivity performance, the TruePic VII image processor drawing out the full power of the lens and sensor, and the in-body image stabilization mechanism effective for all lenses. A fusion of traditional optical technology and advanced image processing technology, coupled with the excellent image stabilization produces top-class OM-D image quality among interchangeable lens cameras.
2. Compact, dustproof and splashproof camera body and lens system
1) Premium body design with distinct presence
Body colors are available in a luxurious black with texture casting, and a bright, gorgeous silver. High-precision, high-quality textures are applied with machined metal dials, knurling, spin patterns, and diamond cutting. The viewfinder, an important design point for the OM-series, features a delta shape for a more bold housing. By lowering the center of gravity in the body (top part of the camera shape as seen from the front), a sense of power and stability are lent to the design, maximizing its presence as an authentic camera. An unconstrained and powerful form evokes a design with distinct presence.
2) Excellent controls and performance
Excellent controls and performance have been packed into a compact body. The shape and materials chosen to keep the body easy to grip, solid grip, easy to press customizable 6 Fn buttons, large, easy to rotate dials, and levers placed in a layout that is easy to operate while looking through the viewfinder. This model is also equipped with a vari-angle LCD screen, making it possible to shoot in a variety of situations, including low angle shots taken while holding the camera vertically.
3) Compact, dustproof and splashproof camera body
Even with the vari-angle LCD, this model has the same compact, lightweight body as the OM-D E-M5. In addition to top-class splashproof performance among interchangeable lens cameras that makes shooting possible even in the rain, this model is freezeproof up to -10°C. These features make it possible to focus on shooting even under difficult conditions with minimum equipment.
4) Dustproof and splashproof lens system
The new M.Zuiko Digital ED 14-150mm f4.0-5.6 II has been added to the lineup of dustproof and splashproof, high image quality, compact lens system (refer to the separate news release for details). There is also the M.Zuiko Digital ED 12-50mm f3.5-6.3 EZ, an electronic standard zoom lens perfect for movie recording, the M.Zuiko Digital ED 12-40mm f2.8 PRO, a fast, high-performance standard zoom lens, the M.Zuiko Digital ED 60mm f2.8 Macro, perfect for nature macro photography, and the M.Zuiko Digital ED 40-150mm f2.8 PRO, a fast, high-performance telephoto zoom lens. These 5 dustproof and splashproof lenses cover a wide variety of scenes, expanding the boundaries of photography.
3. OM-D Movie that provides cinema-quality movies in hand-held shooting
OM-D Movie is a movie solution that provides cinema-quality movies in hand-held shooting. The powerful in-body 5-axis image stabilization system and compact, lightweight body and lens system provides stable movie recording even without a tripod, more dramatic scene recording with active camerawork, and the possibility of capturing natural expressions without intimidating subjects.
1) Top-class movie performance among interchangeable lens cameras
This model supports a 60p high frame rate and a 50Mbps high bit rate*4. Control for movie AF and AE has been reworked for smooth, high-resolution, Full HD movie quality. To compensate for image instability, the OM-D E-M5 Mark II in-body 5-axis image stabilization system uses a VCM driver, which floats the image sensor with magnetic force. This construction makes it possible to shoot smooth, hand-held movies without a movie tripod, mini-jib, rails, or other specialized equipment. The image quality resolution and smoothness, AF performance, AE performance, and image stabilization performance are all at top-class level among interchangeable lens cameras.
2) Advanced movie features for professional level movie making
Equipped with Multi Frame Rate, High Bit Rate, ALL-Intra shooting, and able to set time codes, professional level movie editing is possible. The Live View screen can be displayed on an external monitor via the HDMI output, making it possible to check images on a large monitor while shooting. Focus Peaking is now available in 4 colors (black, white, red and yellow), and the intensity can be selected from low, normal and high, making focusing easier when shooting. Settings such as exposure compensation, aperture, shutter speed, and microphone sensitivity can also be changed using touch operations while recording a movie. Audio can also be recorded using an Olympus IC recorder equipped with linear PCM recording connected to the microphone jack for optimal audio levels and high quality audio recording. Because power supply settings to the external microphone can be turned on and off, users can use a high-end condenser microphone or dynamic microphone with a power supply. Camera grip HLD-8G (sold separately) with a headphone jack can be used to listen to recorded audio while shooting. This expandability supports a variety of shooting situations for professional level movies making.
3) Variety of movie enhancement features
3)-1 Clips function lets you record short movie clips as easily as taking snapshots
You can use the new Clips function to easily create movies with a variety of scene changes. Simply press the movie button once as if taking a snapshot to capture short movies at the preset time*5. Movies shot as Clips are automatically saved to My Clips*6. Users can add effects and background music*7 using the camera and export as a movie file to create a single movie*8. Artistic movies for showing to others can easily be created without editing on the computer.
3)-2 Art Filter Movie and Art Effects
All Art Filters are available when shooting movies. Partial Color lets you capture movies like a scene from a film, and Vintage movie lets you produce an emotional atmosphere in movies without editing. Four different Art Effects, including Art Fade, which makes changes in Art Filter movies more interesting, and Old Film, which gives movies a film-like effect, expand the possibilities of movie expression.
Other Features
1. 40M High Res. Shot produces resolution that goes beyond full-frame DSLR cameras
8 images are captured with 16-megapixel image information while moving the sensor by 0.5 pixel steps between each shot. The data from the 8 shots are then combined to produce a single, super-high resolution image, equivalent to the one captured with a 40-megapixel image sensor. This feature is perfect for capturing fine arts and landscapes, and other scenes where high-resolution photos are required. It maximizes the resolution of Zuiko PRO and Premium lenses, making image quality possible that surpasses that of full-frame DSLR cameras.
2. 2.36 million dot, super large, high-definition EVF
This large, bright, easy to use viewfinder has a field of view of approximately 100%, and a viewfinder magnification of 1.48x. Equipped with Adaptive Brightness Technology which automatically adjusts the backlight brightness in accordance with environmental lighting, the new LV Boost II*9 convenient for shooting stars, and Creative Control for complete freedom of control over color, tone, focus, and aspect ratio, comfortable shooting using viewfinder is possible.
3. Improved sequential shooting performance
RAW sequential shooting is now possible at 5 fps (Sequential L) until the card is full*10. Number of frames will not drop and shooting no longer stops due to sequential shooting time. Additionally, C-AF tracking sequential shooting performance is improved to 5 fps. When using Group Target AF, tracking sequential shooting is possible with the focus on a moving subject within a field of view.
4. High-performance shutter with various modes for different scenes
This model is equipped with a high-speed 1/8000 sec shutter usually only included on high-end interchangeable lens cameras. It achieves the shortest release time lag of 0.044 seconds among same-class cameras with mechanical shutters. Anti-Shock mode (electronic first curtain shutter*11) that reduces shutter shock is now compatible with sequential shooting, and Silent mode*12 (electronic shutter) for shooting in environments in which silence is required is included. All these allow users to use high-performance shutter according to the type of scene.
5. Built-in Wi-Fi for easy operation on Olympus Image Share
Smartphone connection and image sharing is now easier with built-in Wi-Fi. Simply scan a QR code to complete initial connection settings. Users can then transfer images, add geotags, and apply Art Filters. A smartphone can also be used to remotely control the camera for wireless shooting in a variety of scenes.
6. Functions that go beyond flagship models
This model is equipped with a variety of functions also available on the flagship model, the OM-D E-M1 v2.0. These include such functions as keystone compensation for trapezoidal correction in Live View, Olympus Capture for controlling the camera from a computer, Live Composite for shooting star trails while checking the results in Live View.