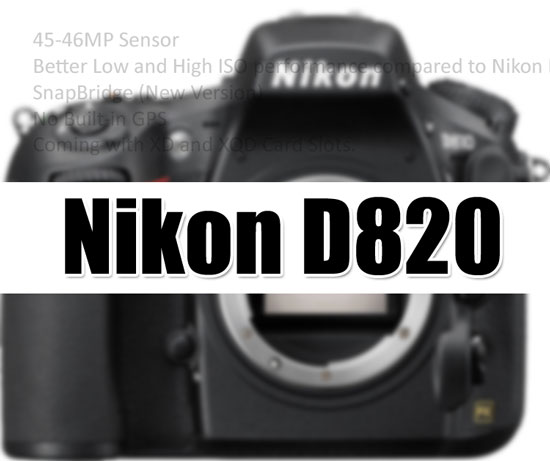 According to latest rumors Nikon D820 is coming with 45/46MP sensor and same AF system as of Nikon D5 camera (Multi-CAM 20K 153-Point AF System).
Nikon D810 was announced on June 26 2014 and it has completed approx 3 years. The fans and the users are anxiously waiting for its successor.
As we have told you earlier the Nikon D810 is using Sony A7R  36 megapixel full frame sensor. And we do hope that the next d800 series camera will going to use customized version of Sony 7r II sensor. Probably that wouldn't have hybrid AF support as the A7R 2 have.
Not only that Nikon D810 successor is rumored to feature improved low as well as high ISO for better performance. The upcoming camera will have two card slots one SD and one XQD.
The camera is expected to arrive this summer.
PS: Two of Nikon High-End DSLRs (N 1610 and N 1404) already cleared WiFi Certification test. Since, Nikon D750 code name was also N 1404 so we are almost confirmed that Nikon is using the same name for the successor of Nikon D750 camera. And N 1601 is assigned for Nikon D810 successor.
The specification of the looks very promising, stay with us and we will update you soon as we get any new information.
Follow Nikon D820 Page on Facebook for more updates Join thenewcamera official Nikon Group at Facebook
Stay with us on FACEBOOK | TWITTER | GOOGLE+ to get live news + rumors 24X7