Both camera have approx same price tag, Sony RX1 features Full Frame Sensor with Bright F2.0 Carl Zeiss Sonnar T lens with macro compatibility, Leica X vario features APS-C sensor and Newly developed Vario lens: Leica ELMAR 1:3.5-6.4/18-46mm lens, take a look at the specification comparison below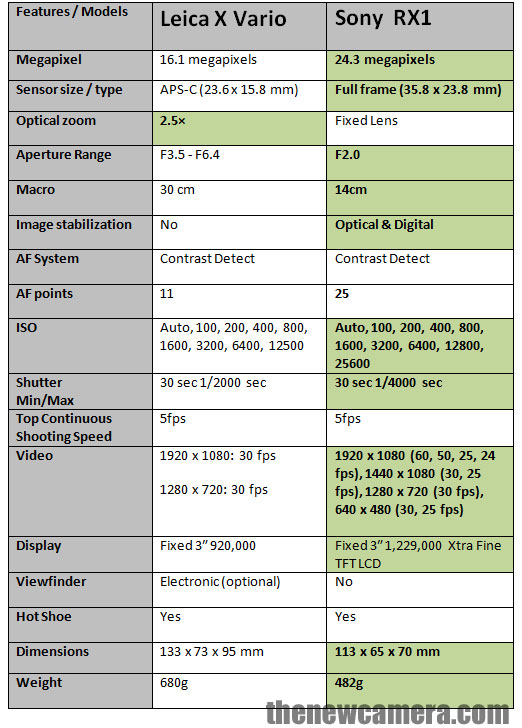 Sensor
Sony RX1 is the world's first fixed-lens digital camera theta comes with 24.3MP 35mm Exmor CMOS full-frame sensor.
Leica X Vario  have APS-C size sensor features a resolution of 16.1MP
Sony RX1 features maximum selectable ISO setting is 25600.
Leica offers an Max ISO sensitivity of 12500.
Lens
Leica features Vario-Elmar 28-70mm f/3.5-6.4 ASPH Zoom Lens, you get 2.5X zoom lens with Leica X vario, the macro range starts from 30cm.
Sony Sony RX1 features fixed Carl Zeiss f/2.0 Sonnar T* lens. The lens features a wide maximum aperture of f/2.0 with 9 iris blades, The lens's macro capabilities allow focusing down to 5.5″ (14 cm). T* coating also reduces ghost and flare caused by light reflection.
Continuous shooting speed
Sony RX1 gives you 24MP @ 5fps high-speed continuous shooting and 14-bit RAW image data recording.
Leica X Vario can capture of up to 8 images at a rate of 3-5fps in DNG + JPEG fine quality.
Image Stabilization
Sony RX1 features SteadyShot Image Stabilization (sensor based), Leica doesn't have Image Stabilization.
Video
The RX1 can record video in Full HD 1920x1080p at 24, 25, 50 and 60 frames per second. For AVCHD: 28Mbps (1920×1080, 60p/50p), 24Mbps FX (1920×1080, 60i/50i), 17Mbps FH (1920×1080, 60i/50i), 24Mbps FX (1920×1080, 24p/25p), 17Mbps FH (1920×1080, 24p/25p). For MP4: 12Mbps (1440×1080, 30fps/25fps), Video features include manual controls, an audio input jack and a multi interface shoe for mounting an external microphone or other accessories
Leica X Vario Capture HD 1920×1080 video at 30fps with sound at the touch of a button. The integrated wind-cut filter ensures outstanding audio clarity. Videos can be saved in MP4 format

Display:
Sony features High resolution display compared to Leica X vario.
Size and Weight
Sony RX1 is smaller and lightweight compared to Leica X vario.
Verdict: Based on Specification Comparison review, we highly Recommend you to buy Sony RX1 .
Price and Buying Links