Fujifilm X100s vs Nikon Coolpix A vs Ricoh GR – Best APS-C Compact camera of 2014

Planning to buy your first APS-C sensor compact camera?, we have compared best three compact camera specification and high ISO images below…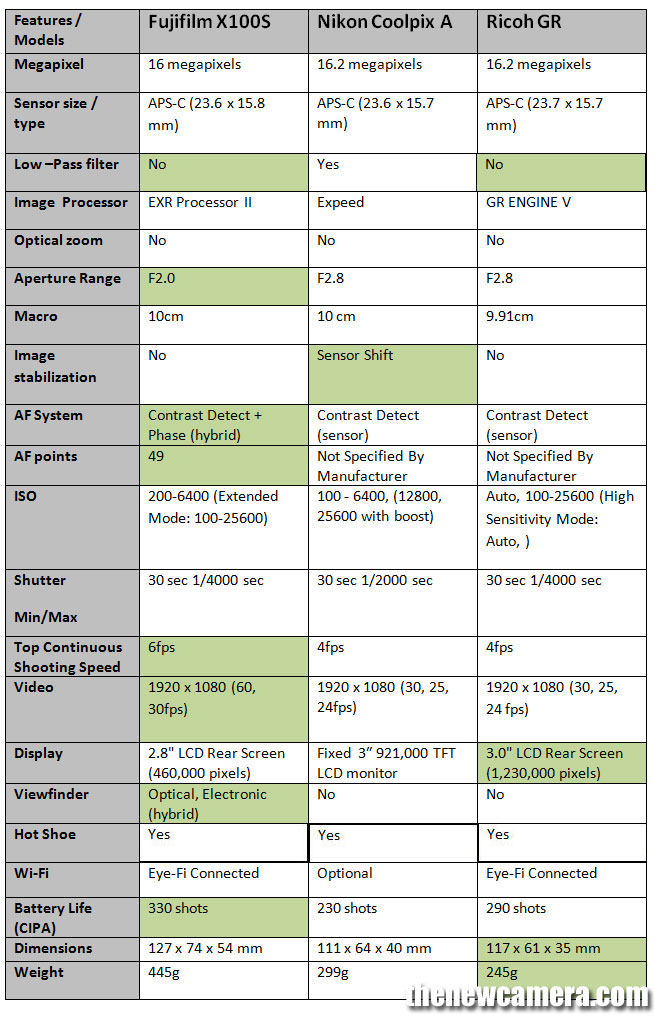 Sensor: Fujifilm features advance 16 Mp APS-C X-Trans CMOS II Sensor, X-Trans sensor uses a unique randomized pixel array in order to avoid the use of a resolution-reducing optical low-pass filter, +1 you also get bright F2.0 lens (1-stop bright lens compared to both competitors ).
Both Nikon coolpix A and Rioch GR have same type of sensor 16.2 MP CMOS sensor, even the lens used in both the camera features same F2.8 Aperture, but the Rioch GR doesn't have low-pass filter so we will sure see sharp images from Ricoh GR camera compared to coolpix A.
From the specification comparison we can clearly see that Fuji will produce better images compared to both the camera due to 1-stop bright lens and  absence of low-pass filter.
AF-system: The Fuji X100s have active phase AF point within the sensor, the Intelligent Hybrid AF system of Fuji X100s uses both contrast- and phase-detection methods to acquire focus quickly and accurately, on the other hand both Nikon coolpix A and Rioch GR uses traditional contrast based AF system..will do slower AF than Fuji X100s.
The continuous shooting speed of Fujifilm X100s is faster (6fps) compared to Nikon coolpix A(4fps) and Ricoh GR(4fps).
Image stabilization: The Image stabilization only available in Nikon coolpix A, Fuji X100s and Ricoh GR doesn't have built-in or lens based Image Stabilization.
Video: The Fuji X100s can shoot Full HD videos @ 60fps, Nikon coolpix A and Ricoh GR limited to 30 fps only.
 Viewfinder: The X100s comes with optical and electronic viewing tools are incorporated into the unique Hybrid Viewfinder, eye-sensor is located on the viewfinder to automatically turn off the rear 2.8″ LCD monitor during eye-level viewing. Ricoh GR and Nikon coolpix A doesn't have viewfinder.
Finally Image Comparison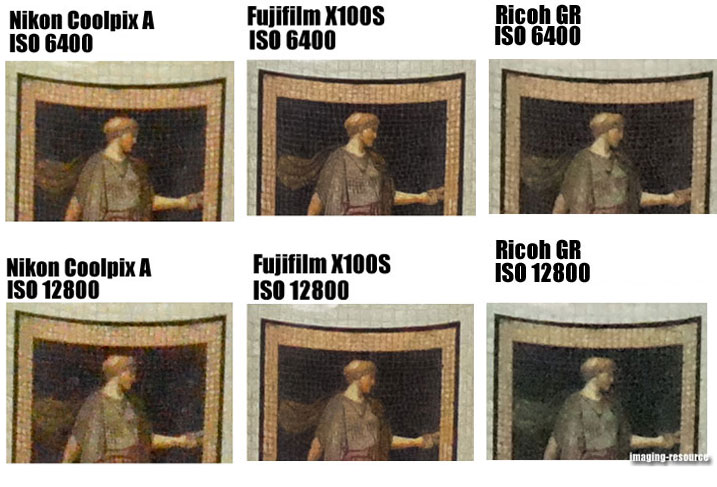 From the image comparison above we can clearly see the Fuji X100s is showing excellent results at High ISO. The Ranking based on image quality is …
#1 Fujifilm X100s
#2 Ricoh GR
#3 Nikon Coolpix A
Verdict: The clear winner of specification and image comparison is FUjifilm X100s, after that we have affordable Rioch GR and finally at the bottom we have Nikon coolpix A.
Buy Fujifilm X100s B&H and AMAZON | Nikon Coolpix A from Amazon | B&H | Ricoh GR features B&H