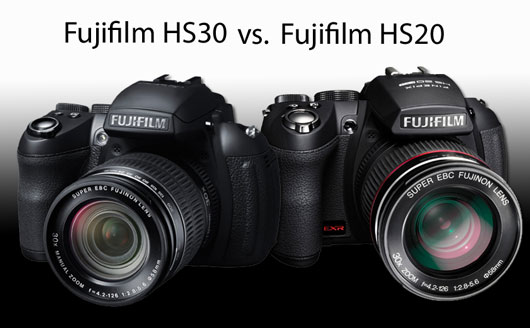 Fujifilm HS30 EXR vs Fujifilm HS20 EXR, fujifilm HS30EXR includes a number of key specification improvements over the HS20EXR model it replaces. Read the specification comparison review below and share your thoughts with us
Buy Fujifilm HS30 from Amazon
Buy Fujifilm HS20 from Amazon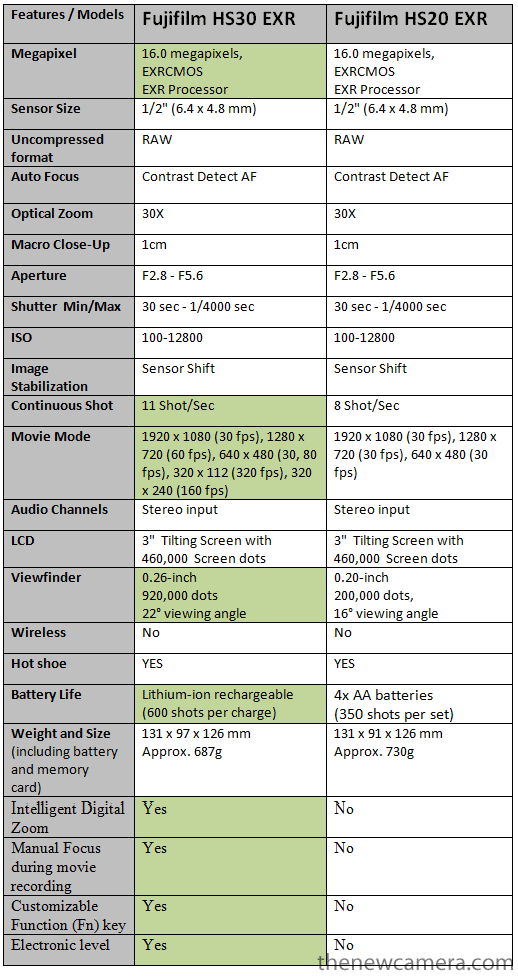 FinePix HS30EXR features an improved EXR-CMOS sensor, By redesigning the shape of the photo diodes used in the EXR-CMOS sensor, the images display 30% less digital noise at higher ISO settings, which results in smoother tones and better low light images.
The Electronic Viewfinder (EVF) has been greatly improved.
New Lithium-ion rechargeable battery delivers up to 600 pictures per charge.
New EVF : Fujifilm HS30 EXR features same EVF as Fujifilm X S1, FinePix HS30EXR's EVF  have large display unit of 0.26-inche and features 920,000 dots, compared to only 200,000 dots on the HS20EXR, making for a far clearer viewing image.
Writing Speed: The writing period after continuous shooting has also been dramatically cut to approximately 2 seconds (compared to 20 seconds on the HS20EXR).
New Intelligent Digital Zoom function: This doubles the focal range, delivering a massive 60x zoom (30XDigital + 30XOptical) with a maximum telephoto setting of 1440mm.
In the new Fujifilm HS30 EXR you get customisable Function (Fn) key to assign shortcut and New HS30 EXR supports manual focus during movie recording.
Conclusion: Upgrade is recommended, Fujifilm HS30EXR comes same 30X optical zoom but features new sensor, faster processing power and better battery life..
Buy Fujifilm HS30 from Amazon
Buy Fujifilm HS20 from Amazon
Support New Camera Buy Music CD or Digital Camera at amazon it helps this site, and you do not pay anything extra, it is just a way to help support this site.