Panasonic GX7 vs Fujifilm X-E1, Panasonic GX7 comes with M4/3 (small size) but newly developed sensor, Fujifilm X-E1 is 1 year old but features bigger APS-C sensor, take a look at the specification comparison review below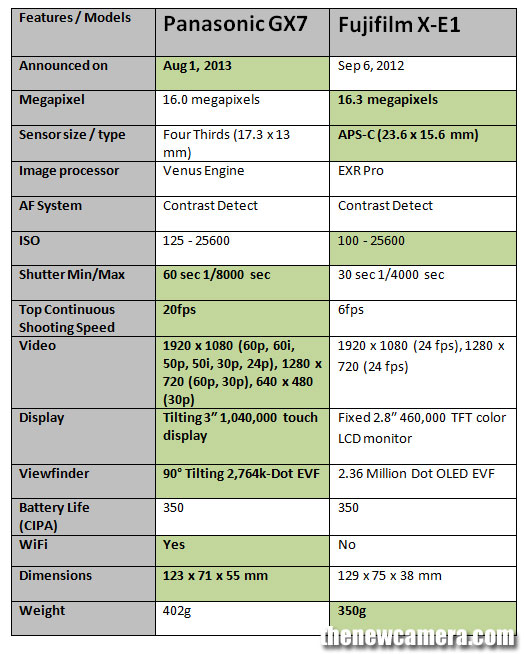 Sensor : Fujifilm features 16.3MP APS-C X-Trans CMOS Sensor without Optical Low Pass Filter, Panasonic GX7 comes with newly developed M4/3 sensor.
ISO Range: Fujifilm X-E1 features bit better ISO range.
Shutter Speed: Panasonic GX7 comes with Electronic + manual shutter, so you get more shutter range and Top continuous shooting speed.
Video: Panasonic GX7 can record Full HD videos at 60 fps, Fujifilm X-E1 limited to 24 fps only.

Display: Panasonic GX7 comes with better display unit with touch control and tilting viewfinder.
Other features include WiFi, no WiFi available in X-E1.
+1 A large a amount of lenses  available for M4/3rd system
Verdict: We all know that Fujifilm X-E1 successor announcement is due, and based on overall specification comparison Panasonic GX7 is a clear winner.
Buy Panasonic GX7 from Amazon and B&H
I have used GH3 and X-E1, but I don't see any major difference in image quality upto ISO 3200, at ISO 6400 and 12800 the images of Fuji X-E1 are bit cleaner, The GX7 comes with newly developed sensor compared to GH3 and I must say that you will not notice any major difference in High ISO performance between both camera (GX7 vs X-E1). We will update this page with High  ISO comparison images as soon as we get it.