The Fujifilm X30 is a clone of X20 camera, since it features same small sensor and image processor as of X20 camera, on the other side we have Sony RX100 M3 camera that features 1 inch large sensor and very small and compact body design… take a look at the core specification below….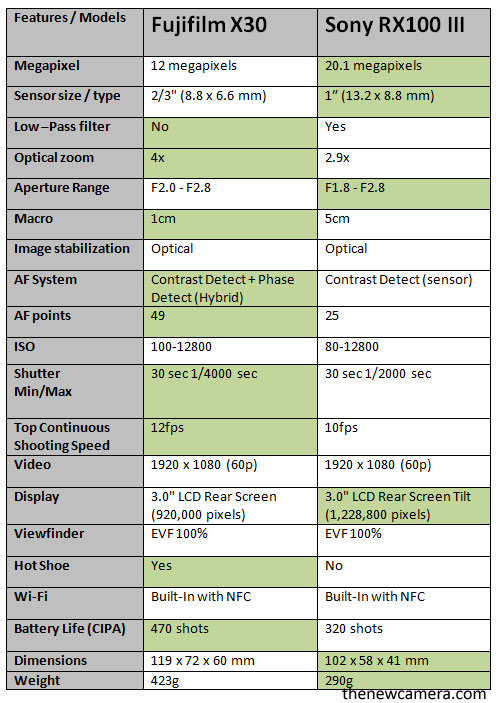 Sensor Tech: The fujifilm features 2/3″ CMOS image sensor and built with X-Trans bespoke pixel array, the pixel pattern literally reduce the need of optical low pass filter above the sensor, the other major advantage of the X-Trans sensor is the presence of active phase AF pixels inside the sensor, so you get HYBRID AF system that uses contrast and phase AF method with the X30 camera to acquire AF.
the Sony RX100 M3 comes with large 20.1 megapixel 1″ Exmor R CMOS sensor features backside-illuminated technology, due to the large sensor size and bright optical lens the sensor get more light compared to Fuji X30 sensor and the difference is clearly visible… the RX100 M3 does produces excellent level of details in the images by maintaining the minimum amount of noise.
Lens: As we have already said that the lens used in the RX100 M3 camera delivers more light compared to the X30 camera not only due to the difference in the aperture range but also due to the difference in the size of lens elements, the RX100 M3 lens elements are designed for large sensor by and they also feature low aperture range… so the RX100M3 will provide more shallow DOF and noise less low-light images when compared to the X30.
Being small the Fuji lens is able to focus as close as 1cm, the Sony RX100 M3 macro range is limited to 5 cm, you also get 1X more optical zoom lens with Fuji X30.
AF System: We have no doubt that the Fuji X30 will do faster AF since it features advance AF sensor that utilizes Phase and Contrast based methods, on the other side we have Sony RX100 M3 uses traditional contrast detect AF system.
Top continuous speed: Fujifilm x30 can take up to 12 continuous shots whereas Sony RX100 III can take up to 10 shots continuously.
Display: Both the cameras support the same 3" tilting LCD but their pixels varies. Sony RX100 III has a pixel density of 1,228,800 pixels whereas Fujifilm x30 has a pixel density of 920000 pixels.
Hot Shoe:  Fujifilm x30 has a hot shoe on its body to attach an external flash for better lightning conditions when required.
Battery life:  Fujifilm X30 can take 470 shots in one cycle but Sony RX100 III can take 320 shots only.
Dimensions: Sony RX100 III is smaller than Fujifilm X30.
Weight: Sony RX100 III is lighter than Fujifilm X30.
 Verdict: We highly recommend you to buy the Sony RX100 M3 camera.
Buy Fuji X30 from –  Amazon and B&H || Buy Pre-order RX100 M3 at Amazon | B&H