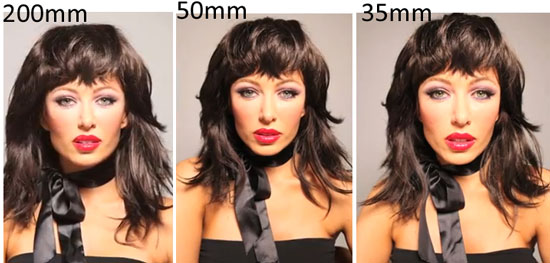 A good tutorial to show you how the focal length impact your portrait photography, with a 200mm lens you get excellent out-of-focus background and beautiful face  and at 35mm you can see some significant wide angle distortion, for more details see the tutorial below

By Jay P. Morgan
The lens or focal length of the lens you choose has a profound impact on the image. It effects the perspective, background and features of the subject. In this lesson everyone should understand what the different focal lengths do to the human face and how they change the background. Why do you choose a 135 mm lens to shoot a head shot of a beautiful woman but use a 24mm to shoot a clown. Keeping the head the same size in the frame and changing the focal length of the lens, I will shoot a series of images that demonstrate how focal length effects the features of the human face and how it changes perspective which effects the background. We will go on to demonstrate a simple 2 light and one reflector fashion lighting set up. I learned a lot from this exercise and I hope you do to.
Keep those cameras rolling, and keep on click'n!