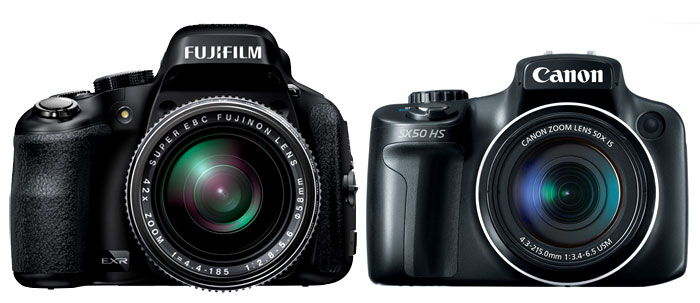 Fujifilm HS50 vs Canon SX50 HS specification comparison review, take a look below and share your thoughts with us.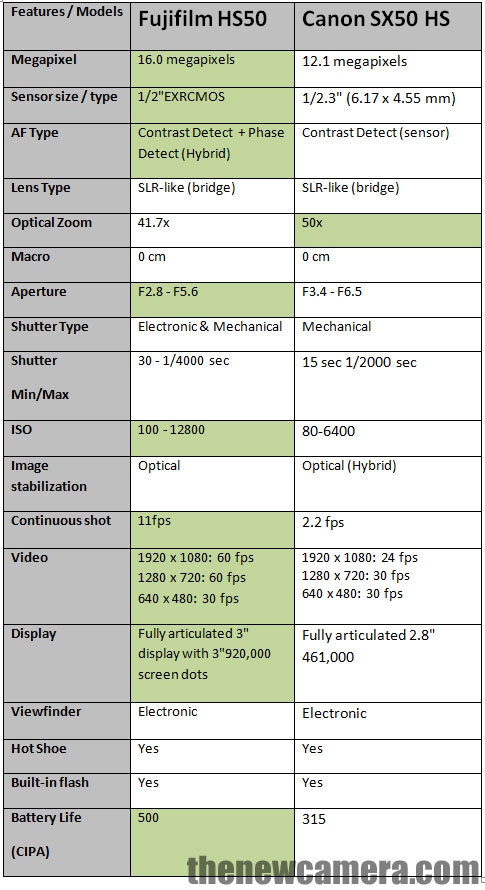 Sensor:
Fujifilm HS50 features newly developed ½" EXR CMOS II sensor with phase detection  and Canon SX 50HS features 12MpCMOS sensor, if we compare the Size Fuji have bit bigger sensor, more megapixel and more ISO range compared to Canon SX50 HS, So specification says that Fuji have better sensor.
Lens:
Canon features 8.3X more optical zoom than Fuji, So Canon wins here.
Image Stabilization:
Fuji features traditional Lens Shift IS whereas Canon Features advance Hybrid Image Stabilization, Intelligent IS to automatically select from six different modes to optimize image stabilization for the given situation: Normal, Panning, Macro (Hybrid) and Tripod IS for stills; and Dynamic, Powered, Macro and Tripod IS for video.
AF Speed / Type:
Fuji HS50 features new Intelligent Hybrid Autofocus system that automatically selects between phase detection autofocus or contrast autofocus in low light,
Canon SX50 HS have AF Speed of 0.19 Sec
Fujifilm HS50 have AF speed of 0.05Sec
The newly announced Fujifilm features Phase AF points within the sensor, due the Phase AF points and contrast detect AF system the Fuji HS 50 achieves a blazing fast AF speed of 0.05Sec, Canon SX50 HS AF speed is limited to 0.19 sec with contrast detect AF system.
Image Processor:  
Canon features latest generation of DIGIC V image processor used in 5D Mark III and canon 1DX, Fuji HD50 also uses newly developed EXR II image processor
Video:  
With Canon SX50 HS You're free to use the full range of the zoom in movie mode, and sound is recorded in stereo. Canon SX50 HS frame rate is limited to 30 fps at Full HD while Fujifilm offers you better AF system and 60fps frame rate while recording video.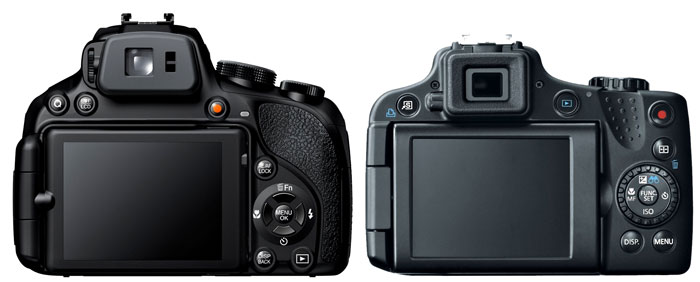 Display: Fujifilm HS50 features big and high resolution display.
Battery Life:  Fuji HS50 gives you more battery life. Canon have NB-10L Rechargeable Lithium-Ion Battery Pack, 7.4VDC, 920mAh , Fuji have 1x NP-W126 Rechargeable Lithium-Ion Battery Pack, 7.4VDC, 1300mAh.
Size and Weight: Fuji is bit bigger and heavier compared to Canon SX50 HS.
Fuji HS50 HS Dimension – 5.3 x 4.0 x 5.7″ / 28.50 oz / 808 g
Canon SX50HS Dimension – 4.8 x 3.4 x 4.2″ / 1.2 lb / 0.54 kg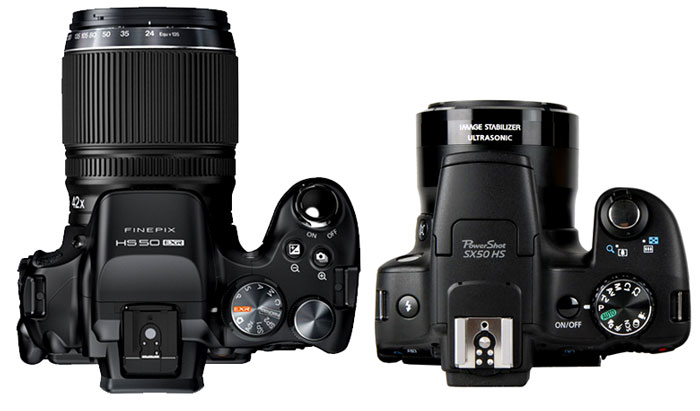 Conclusion:

Fuji HS50 features better Sensor
Canon have more optical zoom
Fuji HS50 features Hybrid AF system
Fuji HS50 Image processor is fast compared to canon in overall score.
Fuji HS50 features better video mode with Phase AF
Fuji HS50 feature better Display
Canon is bit lightweight and smaller compared to Fuji HS50.

If you are looking for Mega zoom camera you can buy Canon, Since SX50 HS features 8.3X more optical zoom than Fuji HS50 with better IS, but based on overall score Fuji HS50 is a clear winner.

SUPPORT NEW CAMERA
Buy Fujifilm HS50 From Amazon
Buy Canon SX50 HS from Amazon