Take a look at the specification comparison review between these two camera, Canon SX60 HS is a successor of Canon SX50 HS camera and it features improved optical zoom lens, more resolution and more….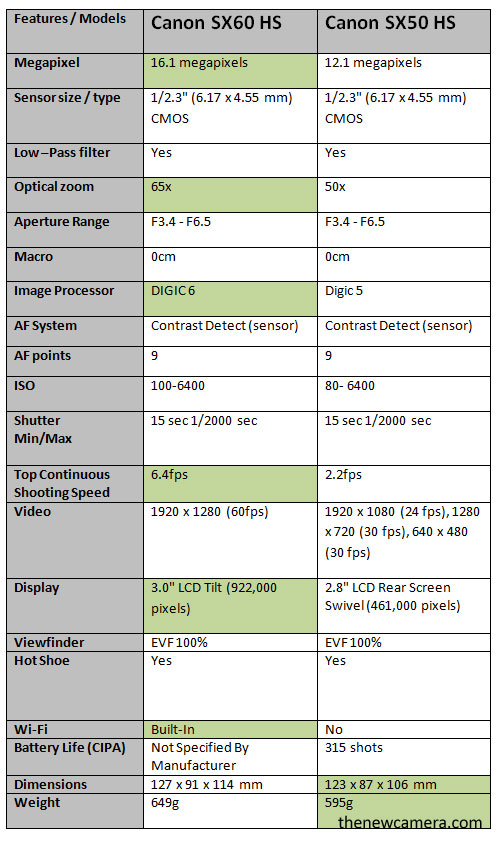 New Features in Canon SX60 HS
Canon added a newly developed 16.1-megapixel High Sensitivity CMOS sensor and the DIGIC 6 image processor inside the Canon SX 60 HS camera, the ISO remains same however due to the new image processor the camera can now capture images of 16 MP resolution with continuous shooting speed of 6.4fps per second, In Canon SX50 HS it was limited to 12 MP @ 2.2 fps per second.
We can clearly see that the recently announced Canon SX60 HS camera features advance optical zoom lens that will give approx 15X more optical zoom lens than the SX50 HS camera,.
The Canon Built-in Wi-Fi allows you to wirelessly share your images to your smartphone, laptop or desktop via the Canon CameraWindow app, which is available as a free download.


The new Canon SX60 HS features high resolution and bit bigger titling screen compared to Canon SX60 HS.
Verdict
Based on specification comparison review we highly recommend you to buy Canon SX60 HS camera.
Canon SX50 HS from Amazon | B&H || Buy Canon SX60 HS camera from Amazon and  B&H Store