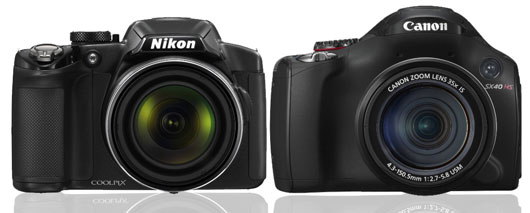 Nikon P510 vs. Canon SX40 HS specification comparison review, read the review before buying you next Super Megazoom Camera.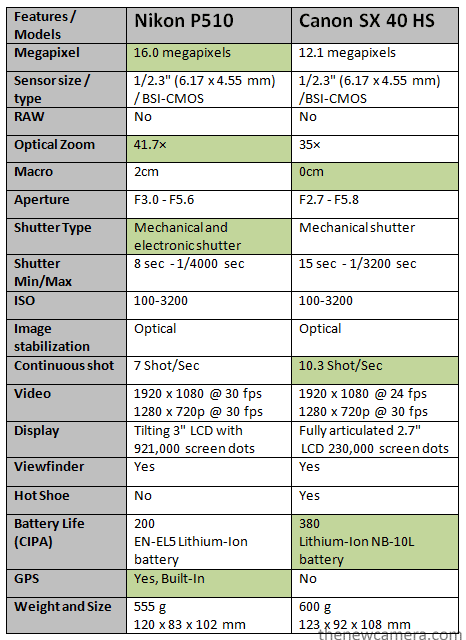 Optical Zoom and Lens Quality
Nikon features 41.7x optical zoom, Canon SX 40 HS limited to 35x only.
Canon features UD glass, double-sided aspherical glass-molded and ultra-high-refraction-index glass lens elements to effectively suppress chromatic aberration. The camera uses a VCM (Voice Coil Motor) for high-speed, quiet, energy-efficient lens movement with precise control.
Nikon P510 comes with Four ED glass elements minimize chromatic aberration.
Sensor: Nikon uses 16 Mp BSI CMOS sensor and Canon uses 12.1 Mp BSI CMOS sensor.
Canon SX 40 HS uses newly developed BSI CMOS sensor and DIGIC 5 image processor, the Canon SX40 HS also features advanced Multi-area White Balance optimizing color tones of both subject and background under multiple light sources.
Nikon P510 uses new Back-illuminated 16-MP CMOS sensor, you get more resolution than the Canon SX 40 HS.
Image Processor:  Nikon P510 uses old Expeed 2 image processor, Canon uses new DIGIC V image processor.
Image processor of Canon is very fast, It can capture/process approx 10.3 shot/sec in high speed shooting mode, Nikon P500 is limited to 8 shot/sec only.
Image Stabilization: Both Canon SX 40 HS and Nikon P510 features optical Image Stabilization.
Canon SX 40HS features Hybrid IS System of Canon SX 40 HS features Six  Intelligent IS Modes, Canon SX 40 HS automatically chooses from six different modes (Normal, Macro, Panning, Dynamic, Powered, Tripod) to optimize image stabilization and help achieve crisp, blur-free images for various shooting conditions.
Nikon P510 features second generation vibration reduction system to combat camera shake.
Shutter: Nikon P510 uses Mechanical and electronic shutter, canon uses Mechanical only.
Nikon P510 comes with Mechanical and electronic shutter, you get Maximum shutter speed up to 1/4000, Canon comes with Mechanical shutter and the speed is limited to 1/3200. The Min shutter speed of Canon is 15 sec and Nikon is 8 sec only.
Movie Mode: Both Nikon and Canon offers Full HD Video recording and AF during Video mode.
GPS:  Nikon P510 comes with Built-In GPS, Canon SX 40 HS have no GPS.
Display: Practically I like Canon vari-angle display, but Nikon Wins here, Nikon P510 features 3″  Tilting Screen with  921,000 screen dots and Canon comes with fully articulated 2.7″ LCD with  230,000 Screen dots.
Battery Life: Canon SX40 HS battery life is approx double than the Nikon P510.
Overall Conclusion:  
Buy Nikon P510 if you want to have Super Megazoom Camera (42X optical zoom), more resolution(16Mp sensor), better display and In-Built GPS.
Buy Canon SX40 HS if you want better IS system, fast image processor (with less noise), bright (F2.7) lens, High speed burst mode (10.3 fps) and longer battery life.
Buy Nikon P510 from – Amazom || B&H || Adorama
Buy Canon SX 40 HS from:  Amazon || Amazon UK || Adorama || B&H