Canon EOS C100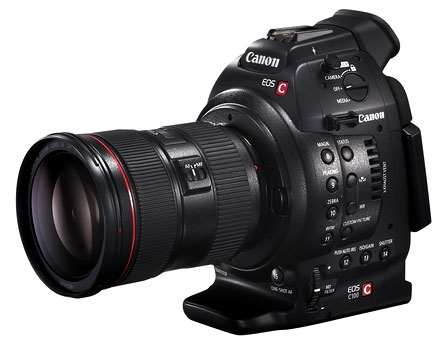 With Canon's Super 35mm 8.3MP Bayer-filtered CMOS sensor at its core, the EOS C100 combines exceptional image quality with a design approximately 15% smaller than the advanced EOS C300. The camera's powerful imaging system enables the same processing as three-chip RGB systems, delivering exceptional colour, wide dynamic range and proven low light performance, while extensive NLE support makes it suitable for a wide range of users and production purposes. With Canon's EF mount users have immediate access to over 60 class-leading EF lenses, as well as the freedom to experiment with the company's expanding EF Cinema Lens line-up.
Canon EOS C100 – key features :
8.3MP Super 35mm CMOS sensor; Full HD
High sensitivity, low noise
24Mbps AVCHD to SD cards
Automatic shooting functions
Interchangeable EF lenses
Canon Log Gamma
Compact, modular, lightweight
Professional audio
Seamless workflow integration
CPS video support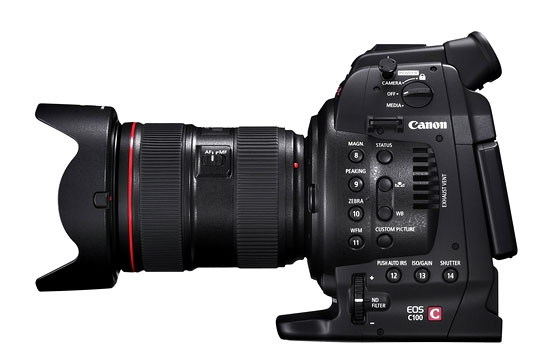 Its advanced imaging system utilises the widely-used AVCHD codec, with the CMOS sensor recording 1920×1080 (Full HD) resolution video to SD cards at 24Mbps with 4:2:0 colour sampling – delivering sharp, vivid, professional-quality video. Uncompressed video can also be output directly to external recorders via an integrated HDMI terminal, complete with embedded timecode data.
EOS C100 allows users to capture high quality images for a range of creative outputs. Support for 24/25/30p and 50/60i frame rates offers flexibility, and an ISO range of 320-20,000 provides extensive exposure control and low noise in all lighting conditions.
Additionally, support for continuous, automatic focus and iris adjustment will be added by a firmware update in 2013, providing fast, smooth performance when used with specified models in Canon's range of EF Stepper Motor (STM) lenses.
Canon EOS C500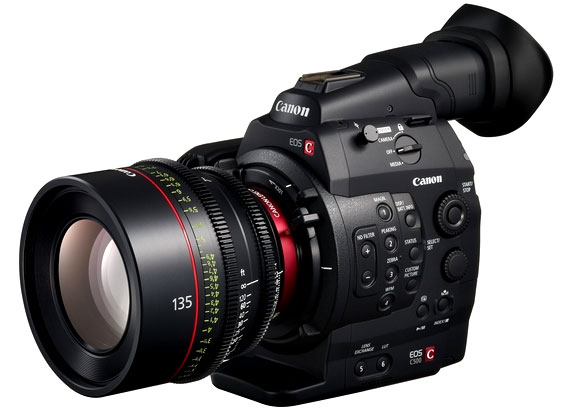 Canon EOS C500 – revolutionary 4K video capture
Following a development announcement in April 2012, Canon today confirms the European launch of the EOS C500, a new digital cinema camera capable of 4K-resolution (4,096 x 2,160 pixels) video output. Designed for motion picture and high resolution digital production industries, the EOS C500 offers the ability to output 4K-resolution images as RAW data for recording using an external device. The camera's uncompressed 4K output also unleashes the full potential of Canon's expanding range of 4K-resolution EF Cinema Lenses, while an EF mount with Cinema Lock makes it easier for operators to switch lenses during shooting.
As well as uncompressed 4K footage, the EOS C500 supports 12-bit or 10-bit RGB 4:4:4 output signals for 2K (2048 x 1080 pixels) or Full HD off-board recording – delivering rich colour and high compatibility with image processes such as chroma key positioning. The camera also supports frame rates up to 120p in both 4K and 2K modes, providing enhanced creative flexibility for high-speed (slow motion) video capture. The inclusion of Canon Log Gamma delivers the high quality video and wide exposure latitude demanded by professional cinematographers.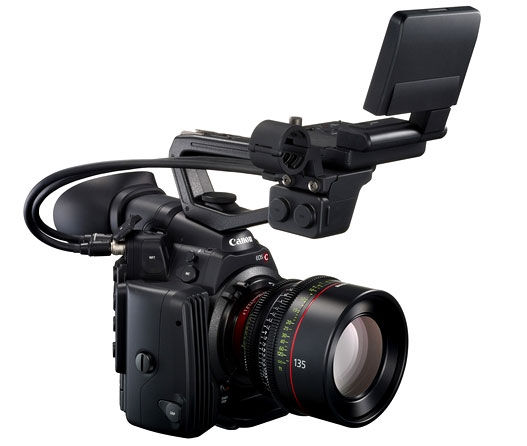 Based on the same advanced platform as the EOS C300, the EOS C500 delivers exceptional performance, incredible mobility and outstanding expandability. The availability of a PL mount variant provides support for industry-standard lenses, while the EF mount model is the first Cinema EOS camera to feature a modified EF mount with Cinema Lock. Designed as a result of user feedback, EF mount with Cinema Lock has been developed to make it simpler to swap lenses mid-shoot. Instead of the user having to rotate the lens, the new mount rotates to lock lenses into place – providing easier operation during studio and field-based shooting.
New cinema zoom lenses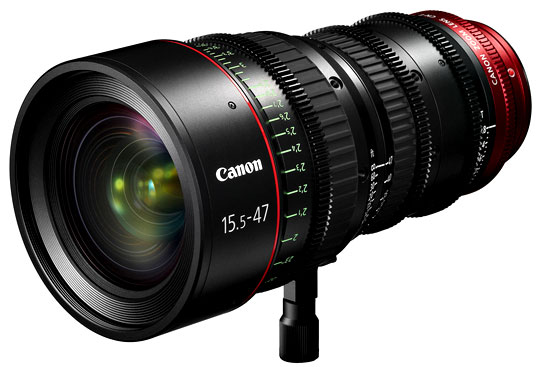 New cinema zoom lenses – flexibility, performance and value
The arrival of four new EF Cinema Lenses expands the Cinema EOS System further, with each designed to offer premium performance, mobility and competitive pricing. Two wide-angle cinema zoom lenses, the CN-E15.5-47mm T2.8 L S (EF mount) and CN-E15.5-47mm T2.8 L SP (PL mount) launch alongside two telephoto cinema zoom lenses, theCN-E30-105mm T2.8 L S (EF) and CN-E30-105mm T2.8 L SP (PL) and all offer sufficient resolution for 4K production, making them ideal for use with Canon's EOS C500 and EOS-1D C cinema cameras – both of which support 4K video capture.