Both camera are made with different approach, the Canon 5DS is high resolution Canon DSLR made for shooting in controlled light environment and perform its best when used at base ISO range (below 3200) where as Canon 5D Mark IV is the flagship DSLR of 5D series and made which can shoot perfect stills with Hybrid AF support and records 4K video.
Canon EOS 5D IV
Canon EOS 5DS
Sensor
30.4MP
50.6MP
ISO range

100 – 32000
(expandable 50-102400)
100 – 6400
(expandable 50-12800)
AF points
61, 41 cross-type (f/8 support at all points)
61, 41 cross-type (f/8 support at center point)
Live view/video AF
'Dual Pixel' phase detection
Contrast detection
RGB metering sensor resolution
150k pixels
150k pixels
LCD
3.2″ 1.62M-dot touchscreen
3.2″ 1.04M-dot
Burst rate
7 fps
5 fps
Video
DCI 4K/30/24p
1080/30p
Headphone socket
Yes
No
Card format
1x Compact Flash
1x SD
1x Compact Flash
1x SD
Built-in Wi-Fi/NFC
Yes
No
 GPS
Yes
No
Sensor: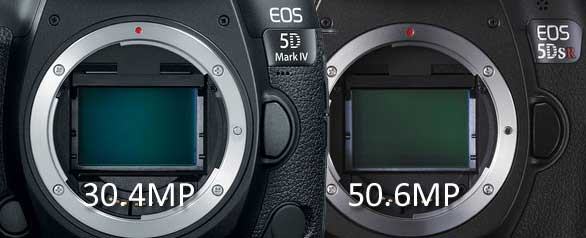 Practically both the camera using Canon made fullframe sensor but the technology used inside them are completely different, the Canon 5D Mark IV uses Dual-pixel CMOS AF sensor that can do fast AF while recording video or shooting with live-view model. Not only that, other brand users should also understand that the camera doesn't have any dead pixels inside the sensor to do AF. The Dual-pixel AF technology uses to sub-photo diodes to acquire AF and hence your sensor doesn't have any single dead pixels.
ISO Range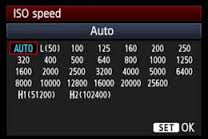 If you look at the ISO range of the current Canon 5D Mark IV, its much improved compared to the Canon 5DS camera. The standard ISO range of the Canon 5D Mark IV as well as the expandable ISO range both are better.
The Canon 5D Mark IV features 30 MP FF sensor whereas the Canon 5DS features 50MP FF Sensor, more megapixel on the same sensor plane means smaller photodiodes. When the sensor Photodiode becomes small it become less sensitice to light. Canon 5DS camera is not made to perform in low-light environment. It does need a well controlled environment to deliver optimal result.
Advance AF System :

The new Canon 5D Mark IV system uses touch and shoot / track technology with the help of High Speed Dual-Pixel CMOS AF system.
The Canon 5DMark IV DSLR uses two different types of AF system
Dual-pixel CMOS AF Sensor for Fast AF during still and video
61 Point Phase AF module 41 cross-type (f/8 support at all points)
The Canon 5D Mark IV features advance Phase AF module whose All 61 point AF system is compatible with F8 aperture whereas Canon 5DS center point only support F8 aperture. The other major advantage Canon 5D Mark IV is Dual-Pixel AF system that enables super fast AF while shooting with live-view or video. The Canon 5DS features a contrast detect sensor AF become slow and sluggish when you s them for shooting in live view or video.
Video:
| | |
| --- | --- |
| Canon 5D Mark IV | Canon 5DS |
| 4096 x 2160 (4K), 1920 x 1080 (Full HD), 1280 x 720 (HD) |  1920 x 1080 (Full HD), 1280 x 720 and 640 x 480 |
The Canon 5D Mark IV can shoot 4K videos on the whereas the Canon 5DS remain limited to Full HD mode only. The Canon 5D Mark IV record 4K video with an ideal 1:1 pixel sampling ratio and while recording Full HD video it uses the entire Full frame sensor. The 4K video is recorded using a central 4096 x 2160 area of the sensor at a 1.74x crop so there is still a lot of space of improvement left for Canon 5D Mark IV camera. BTW, it is better than Canon 5DS.
Wireless connectivity
The Canon 5D Mark IV feature built-in WiFi and NFC connectivity as well as GPS module. The NFC also allow you to enable remote shooting from your smartphone. The camera also compatible with CS100 Connect Station.
Conclusion:  We highly recommend you to get the Canon 5D Mark IV camera, the camera features new sensor, advance AF system and a option to record 4K videos. Canon also introduced Dual-Pixel AF mode, that allow photographers to fine tune AF after the shot is taken.
Buy Canon EOS 5D Mark IV —-  Amazon.com | B&H Store