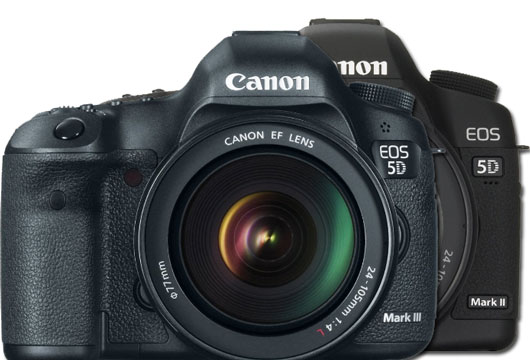 Buy Canon 5D mark III at Amazon
Canon 5D Mark III vs Canon 5D mark II,  read the quick specification comparison review below.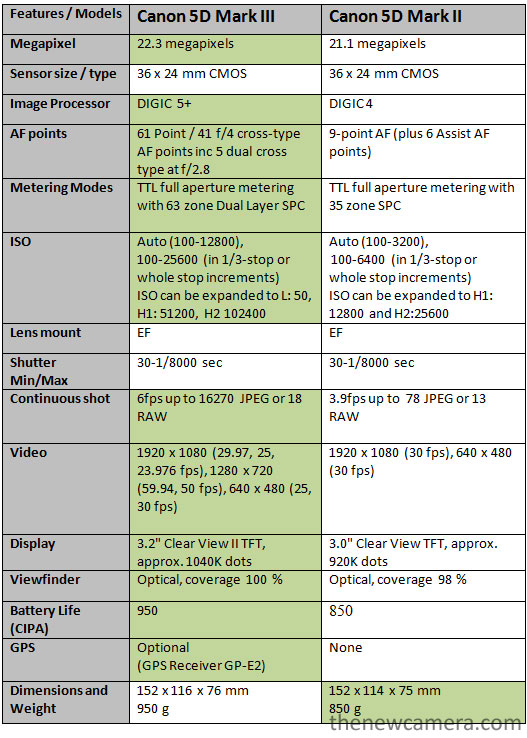 New Sensor
Canon 5D Mark III comes with newly designed 22.3 megapixels Full Frame sensor and DIGIC 5+ image processor.
The new sensor captures 5784 x 3861 large individual 6.25 µm pixels and has a much-improved S/N ratio resulting in better images from the start. A new photodiode structure with an increased photoelectric conversion rate increases the sensor's sensitivity by approximately 2 stops over previous models, meaning higher ISOs with the lowest noise of any EOS digital camera. And a 2-line 8-channel simultaneous signal readout means speeds of up to 6.0 fps (RAW + JPEG) are possible!
Image processor
With an increased 8-channel read out, the camera comfortably handles a maximum full resolution speed of up to 6fps in bursts of 18 RAW images or over 16,000 JPEGs.
The DIGIC 5+ Image Processor improves data processing performance and features new algorithms that promote greater noise reduction at higher ISOs. In addition to conventional image processing functions the DIGIC 5+ Image Processor offers real-time compensation for chromatic aberration in both still and motion images.
AF Points
The EOS 5D Mark III utilizes the same 61-point wide-area AF system as the flagship EOS-1D X, One of the most advanced AF systems currently available, it features an impressive 41 cross-type points and five dual cross-type points and f/4.0 lens support, providing unsurpassed accuracy across the frame. The customizable AF pre-sets introduced in the EOS-1D X are also available,
ISO Range
Canon 5D Mark III features ISO 100–25,600 standard sensitivity range, ISO can be expanded to L: 50, H1: 51200, H2 102400.
Movies
EOS HD Video with manual exposure control and multiple frame rates (1080: 30p (29.97) / 24p (23.976) / 25p, 720: 60p (59.94) / 50p, 480: 30p (29.97) / 25p with 4 GB automatic file partitioning (continuous recording time 29 minutes 59 seconds), selectable "All i-frame" or IPB compressions, embedded timecode, manual audio level control while recording, and headphone terminal.
The new 5D Mark III  CMOS sensor's new drive system significantly increases image processor performance, reducing color artifacts and moiré (a common problem that occurs in scenes with horizontal lines)
Overall Conclusion

The 5D mark III features new sensor, new image processor, better ISO range, Advance AF system and a bit longer battery life.

Canon 5DMk II Upgrade – Highly Recommended

Amazon
Pre – order Canon 5D mark III at Amazon
B&H Store
Pre- order Canon 5D mark III Body only
Pre-order Canon 5d mark III with kit lens (24-105mm f/4L IS USM AF Lens)