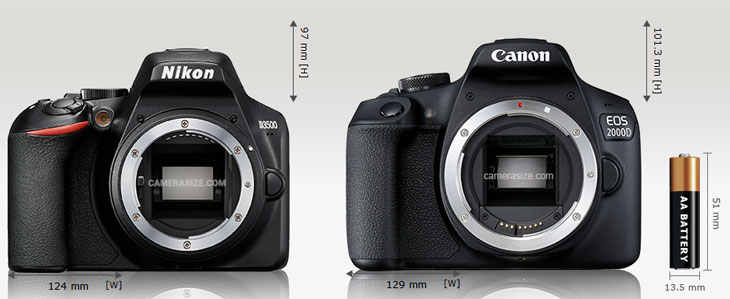 Canon 1500D / 2000D / T7 vs Nikon D3500 – We are doing a specification comparison review between the recently announced Nikon D3500 camera and the Canon 1500 / 2000 / Canon T7.
| | | |
| --- | --- | --- |
| Features/ Models | Canon 1500D / 2000D | Nikon D3500 |
| Megapixel | 24 MP | 24 megapixels |
| Sensor size |  APS-C (23.5 x 15.7 mm) | APS-C (22.3 x 14.9 mm) |
| Low pass filter |  No | No |
| Image processor | DIGIC 4+ | EXPEED 4 |
| AF system | Contrast Detect + Phase detect –  Traditional DSLR AF | Contrast Detect + Phase Detect – Traditional DSLR AF |
| AF points | 09 | 11 Points |
|  ISO | 100-12800 | 100-25600 |
| Image Stabilization | No | No |
|  Shutter Min/ mix |  30-1/4000 | 30sec-1/4000 |
|  Continuous shooting speed | 3 fps | 5 fps |
|  Video |  Full HD 30 fps | 1920 x 1080 (60p, 60i, 24p) |
| Display | 3.0″  920,000-Dot Fix display | 3.0″ 921.6k-Dot Tilting Touchscreen |
| Hot shoe | Yes | Yes |
| Wireless | Built-in (WiFi – NFC) | Built-in (BLUETOOTH) |
| Environmentally sealed |  No | No |
| Battery life |  NA | 1500 Shots |
| Dimensions | 129.0 x 101.3 x 77.6 mm | 124.0 x 97.0 x 69.5 mm |
| Weight | 427 g | 365 g |
ISO Sensitivity
Now let's check out the major differences between the two camera one of the major differences that you can see is the difference between the ISO range of both the camera. The maximum ISO range of Nikon D3500 camera is upto 25600 where as the Canon T7 / 1500 D is limited to 12800 standard ISO only.
Phase AF system
Number of auto focusing points in Nikon D3500 as usual a bir more than the Canon T7 or 1500D. With the Nikon D3500 camera you are getting 11 point autofocusing system and Canon 1500D / T7 limited to 9 Point AF system only.

Continuous shooting Speed
Both camera have 24 megapixel APS-C CMOS sensor, but when you talk about the continuous shooting speed than Nikon D3500 camera can shoot up to 5 frames per second whereas the Canon 1500 / T7 remains Limited to 3 frames per second. That's clearly indicates the image process sitting inside the Nikon D3500 camera is more powerful and faster compared to the Canon 1500D / T7 image processor.
Bigger Battery Life
One of the most important thing is the battery life of a camera, and the new Nikon D3500 camera offers you to Grab 1500 shots in a single charge whereas the Canon 1500 / T7 remains limited to 500  per charge only.The Nikon D3500 camera is giving you 3x more battery life compared to the Canon.
Design of the Camera
The design of the camera is vastly improved compared to its predecessor, yes we are talking about the Nikon D3500 camera which is more compact and the hand grip become comfortable compared to its predecessor and of course it's better than Canon 1500 D design when you pick up with the cameras in your hand. Well I am sharing my opinion with you.
Advantages of the Canon 1500D / T7 camera.
Nikon D3500 camera do perform a bit better in low light conditions but there is not any huge difference between the two, one of the reason that may stand behind the similarities is the use of same sensor inside the Nikon D3500 as of its predecessor.
But from Canon 1300D to 1500D the image quality is vastly improved. Canon used a new sensor and the low-light performance as well dynamic range of the camera is improved from its predecessor and now you can say that level of image quality coming out from 1500D is look similar to Nikon D3500.
I don't know why Nikon not updated the image processor of the image sensor of the recently announced Nikon D3500 DSLR camera despite of taking two years of time.
Built-in WiFi NFC Connectivity
Built in wireless and NFC connectivity, Nikon D3500 camera wireless connected to Bluetooth. This BIG reason behind that 2MP file limit transfer to your smartphone or any other smart device, with Canon 1500D  you can transfer full size images to your smartphone with the help of the wireless connectivity (WiFi NFC) options available inside the camera.
Verdict
After looking all the major specifications of both the camera it's very clear that Nikon D3500 camera do offer advanced Core specification compare to the Canon 1500D / T7 camera. We recommending you to get the Nikon D3500 camera if you want to start your photography career with a decent entry level DSLR camera under affordable price tag.
Nikon D3500 camera. (B&H Store & Amazon.com )
Follow Nikon D3500 page on Facebook – Join Nikon D3500 Group if you have any question
Subscribe thenewcamera YOUTUBE channel Stay with us on FACEBOOK | TWITTER | GOOGLE+  to get live news + rumors 24X7
image credit – camerasziecomaprison