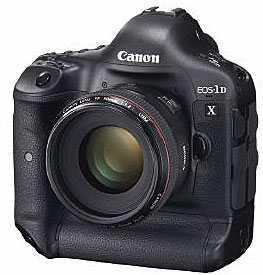 New canon 1D X Pro DSLR camera specification and press release leaked by canonrumors, Read the specification of New Canon Canon 1D X Full Frame camera.
Specifications

Canon EOS-1D X
Full Frame
18.1MP
Dual DIGIC 5+ – 17 Times The Processing Power of DIGIC 4
ISO 100-51200 Native
100,000 Pixel RGB Metering Sensor
EOS iSA (Intelligent Subject Analysis)
61 Point AF
21 f/5.6 Cross Type Sensors
20 f/4 Cross Type Sensors
5 f/2.8 Cross Type Senors
EOS iTR AF (Intelligent Tracking & Recognition Auto Focus)
12 Frames Per Second
14 Frames Per Second JPG Only
400,000 Shot Rated Shutter
Ethernet Connection
March Availability
Things to be noted:
The 1DS + 1D = 1D X
1Ds series, which delivers exceptionally high image quality, and the 1D series, which achieves superlative high-speed performance. Integrating the strengths of these two series, Canon's new professional flagship model, the EOS-1D X, brings together the highest levels of image quality and speed performance.
Dual DIGIC 5+
The 1D X features Dual DIGIC 5+ image processors, The two new high-performance DIGIC 5+ image processors—each realizing approximately 17 times the processing power of DIGIC 4.
Canon 1D X ISO Performance Compared with the EOS-1D Mark IV's
EOS-1D Mark IV's sensitivity range of ISO100–12800, the EOS-1D X offers a range that has been expanded by two steps, to 100–51200
High-speed continuous shooting of up to approximately 12 frames per second with high-precision AE and AF performance.
The newly developed AF system incorporates an AF sensor with a total of 61 autofocus points for improved high-precision subject capture. The sensor includes 21 f/5.6 cross-type sensors, 20 f/4.0 cross-type sensors, and 5 f/2.8 dual cross-type sensors. Equipped with 20 f/4.0 AF points, the new camera offers the same level of precision as the EOS-1D Mark IV at f/2.8. Additionally, working in tandem with the new AE system, the camera's EOS iTR AF (Intelligent Tracking and Recognition Auto Focus) function is capable of tracking a subject's face or target color to maintain focus on a moving subject.
The new EOS-1D X comes equipped with a Gigabit-Ethernet connection that, when shooting in locations equipped with a wired LAN connection such as large sporting arenas, enables data to be transferred to editing desks quickly and reliably.
EOS-1D X, Canon's new flagship digital SLR camera, scheduled to go on sale in late March 2012.