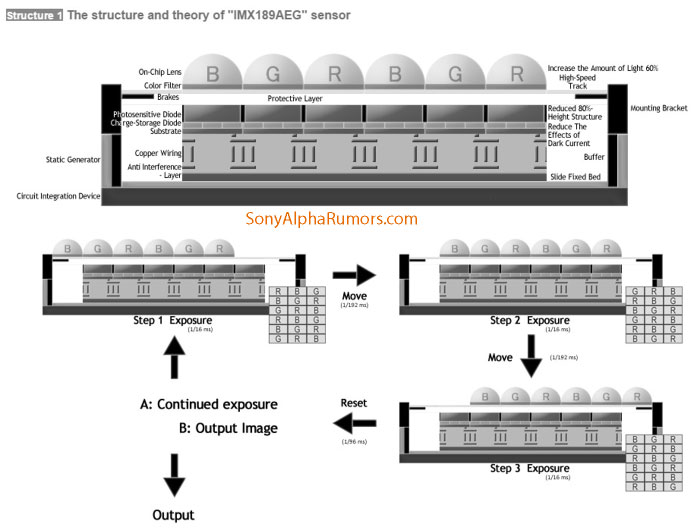 The theoretical structure of Sony upcoming Active Pixel Sensor Details Leaked today, as we have said earlier that the newly developed sensor has a moving color filter above the sensor that moves on horizontal direction and manages to capture three exposure / images (RGB) at the same time and merges into one,
the advantages of active pixel technology are
– Bigger pixels compared to same resolution Bayer sensor. This means more electrons captured and therefore higher dynamic range and lower noise (crazy ISO possible…even crazier than those of the Sony A7s).
– No moire issues anymore. No Anti Aliasing filter needed (increases per pixel sharpness).
– That tech also allows to make crazy high megapixel sensor. For example if you keep an Sony's APCS pixel size same as the current Sony A7r 36MP RGB pixel size sensor you could in theory make a much higher resolution sensor with same noise level.
– Less pixels to read means also faster processing and readout.
– You actually can have a "full-monochrome" sensor
The sensor is expected to introduced in smartphones first… and later on it will be added to mirrorless and compacts.
stay with us (FACEBOOK | TWITTER | GOOGLE+) and we will update you soon as we get any new information / see more Sony Rumor.
src – SAR