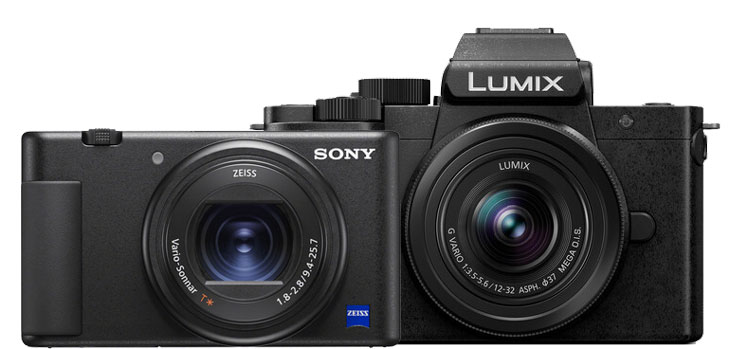 Well, let's compare the Sony ZV1 camera with the Panasonic G100 camera. Let's see which one is a more suitable camera for Vlogging purposes. Let's jump on the spec table of both to see the Major difference between the two.
1. Interchangeable lens vs Compact – Which one is better
Of course, Sony has given as a limited focal length of 27-70mm, whereas with Panasonic G100 we are getting 12-32mm lens which is more user friendly and covers more area/frame. So, Panasonic does have an added advantage of interchangeable lenses.
| | | |
| --- | --- | --- |
| Camera Format | Panasonic G100 | Sony ZV1 |
| Sensor Size | 17.3 x 13 mm | 1 inch |
| Image File Format | JPEG, Raw | JPEG, Raw |
| Image Stabilization | Optical, EIS | Optical, EIS |
2. Panasonic G100 Camera features Larger Sensor
Panasonic G100 Camera features a larger M4/3 format sensor compared to Sony ZV1 Camera. The Sony ZV1 uses a 1-inch sensor. Both sensors feature the same resolution, but due to the larger sensor area, we may notice some significant advantage in Panasonic G100 Camera while shooting still images.
3. Missing Hybrid Autofocus
Panasonic G100 uses the same DFD AF system used by the Panasonic line-up of cameras. We know the DFD AF system is not as fast as we have a Hybrid AF system in the Sony ZV1 camera.  And, one of the biggest disadvantages of DFD is it needs a good amount of light to acquire AF, otherwise, it will take a bot more time to acquire AF. So, if you are shooting vlogs in low-light environment
4. Customized AF Modes inside Sony ZV1 Camera for Vloggers
In Sony ZV1 camera we are getting a custom-tailored AF mo0des inside the camera. When you activated the product showcase mode the camera quickly acquires AF at products without any lag or hunting. So, the AF system of Sony ZV1 camera is more user friendly, accurate and fast.
| | | |
| --- | --- | --- |
| | Panasonic G100 | Sony ZV1 |
| ISO Sensitivity | 200 to 25600 (Extended: 100 to 25600) | 100 to 12800 (Extended: 64 to 25600) |
| Metering Method | Center-Weighted Average, Multiple, Spot | Average, Center-Weighted Average, Multi, Spot, Face Priority |
| White Balance | Auto, Cloudy, Color Temperature, Daylight, Flash, Incandescent, Shade, White Set 1, White Set 2, White Set 3, White Set 4 | Auto, Cloudy, Color Temperature, Custom, Daylight, Flash, Fluorescent (Cool White), Fluorescent (Day White), Fluorescent (Daylight), Fluorescent (Warm White), Incandescent, Shade, Underwater |
| Continuous shooting | 10 FPS | Up to 24 fps at 20.1 MP |
| | | |
5. Best Video Camera – Sony ZV1 vs Panasonic G100
Sony ZV1 Camera –  With the Sony ZV1 camera we are also getting the HLG (Hybrid Log-Gamma) support, along with the BT.2020 color space, for recording within a wide color gamut and, in addition to S-Log2, S-Log3 is also available for producing an effective 14-stop dynamic range with increased grading control in the shadow to mid-tone regions of the image.
Panasonic G100 – V-Log L has been pre-installed and is used to capture a flat, neutral gamma curve well-suited for grading in conjunction with a LUT for greater control over color.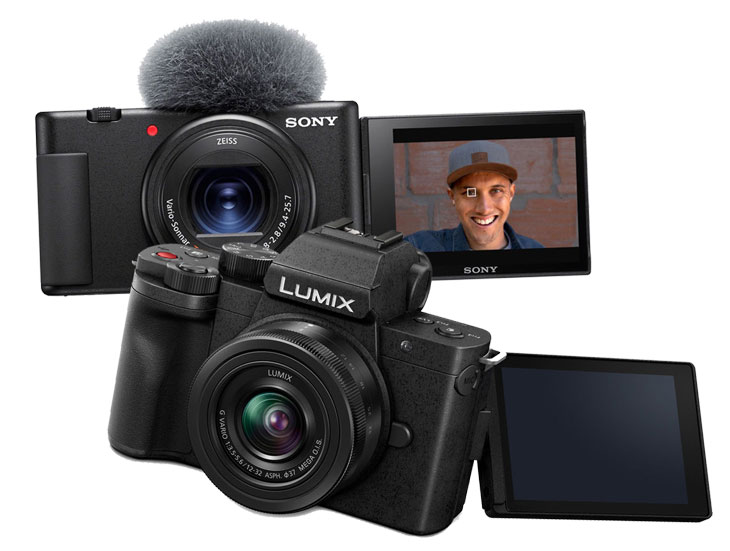 Recording Modes
MP4 4:2:0 8-Bit
UHD 4K (3840 x 2160) at 23.976p/29.97p
Full HD (1920 x 1080) at 29.97p/59.94p
MP4/XAVC S
UHD 4K (3840 x 2160) at 23.976p/25p/29.97p [60 to 100 Mb/s]
Full HD (1920 x 1080) at 23.976p/25p/29.97p/50p/59.94p/100p/119.88p [16 to 100 Mb/s]
AVCHD/MP4
Full HD (1920 x 1080) at 50i/59.94i [17 to 24 Mb/s]
Time Limit
Max 30min Full HD 30FPS
Unlimited
Video Encoding
NTSC
NTSC/PAL
Audio Recording
Built-In Microphone (Stereo)
External Microphone Input
Built-In Microphone (Stereo)
External Microphone Input (Stereo)
Audio File Format
AAC
AC3, Linear PCM (Stereo)
| | | |
| --- | --- | --- |
| Battery | 1 x DMW-BLG10PP Rechargeable Lithium-Ion, 7.2 VDC, 1025 mAh (Approx. 270 Shots) | 1 x NP-BX1 Rechargeable Lithium-Ion, 3.6 VDC, 1240 mAh (Approx. 260 Shots) |
| Dimensions (W x H x D) | 4.55 x 3.25 x 2.13″ / 115.6 x 82.5 x 54.2 mm (Excluding Protrusions) | 4.15 x 2.36 x 1.71″ / 1.05.5 x 60 x 43.5 mm |
| Weight | 12.42 oz / 352 g (Body with Battery and Memory) | 10.37 oz / 294 g (Body with Battery and Memory) |
some additional features of the Sony ZV1 Camera made specifically for Vloggers.
6. Background Defocus
Background Defocus lets you immediately switch to the maximum aperture setting (f/1.8-2.8), using a custom button function, for isolating your subject using shallow depth of field and bokeh. Built-in ND filter benefits using this mode in bright lighting conditions by controlling overexposure.
7. Face-Priority AE
Face-Priority AE detects the subject's face and adjusts the exposure to ensure the face is depicted in an ideal brightness, even if walking from a bright place into the shade. The AE technology also suppresses abrupt changes in exposure if the subject quickly turns away from the frame to eliminate unexpected blown-out or extremely dark shots.
8. Best Vlogging Camera between Sony ZV1 and Panasonic G100?
Fast Auto Focus is highly Important for Video – Sony ZV1 camera does super-fast AF while vlogging and also features custom-tailored AF modes for Vloggers. Panasonic DFD isn't that fast and viewers may get annoyed to see your camera most of the time struggling for AF.
Both Cameras Uses OIS – Both camera image stabilization depends upon OIS [lens based optical image stabilization ]. And if you are a travel vlogger, I will recommend you to get a gimble for your camera if you buy any of these cameras. Panasonic makes worlds best on sensor IBIS system. But, to make the camera more compact they left the IBIS unit.
Panasonic G100 more Coverage but – Pasnonic G100 camera does cover more range (starting from 12mm to 32mm) which is standard vlogging range. Whereas Sony does have tight frame with a 24-70mm compact lens. But, by just having a better coverage area we are not able to recommend you the Panasonic G100 camera due to its slow AF speed and missing IBIS unit inside.
Sony ZV1 is a clear Winner – Sony ZV1 is designed for vloggers and does have many features inside which are specifically researched and developed by keeping vloggers requirements in mind.
Buy Sony ZV1 Camera from B&H Store
Buy Panasonic G100 Camera from B&H Store