Sony added a new teaser in their official blog today related to NAB 2016 products announcement, however nothing is clear from the image as you can see below.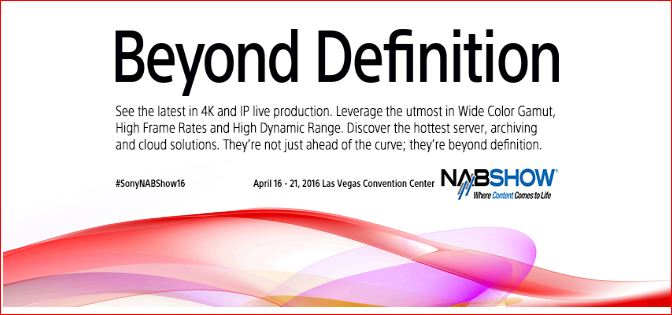 If we look at the interview taken by NAB hub, Deon LeCointe, Product Manager, Sony Electronics given us some hints about the type of products we may see at NAB 2016 show.
What products/services will your company be showcasing?

At NAB Show 2016, Sony will announce new models and updates to its full line of professional A/V technologies for HD and 4K production at all levels, ranging from camcorders, cameras, switchers and displays for sports, live production, events and more. We will showcase current applications, technology strengths and highlight topics ranging from imaging and 4K/IP transmission to Storage/Optical Disc Archive and Display/HDR. At the show, Sony will also debut their newest Ultra HFR camera, building on the success of the HDC-4300 and other popular studio camera systems. This new camera will offer up to 8x high frame rate in 4K and integrates well with the existing lineup.
It clearly means that Sony will have a sonic blast of announcements on NAB 2016 show, follow us on Facebook page for latest updates, we are also on | TWITTER | GOOGLE+