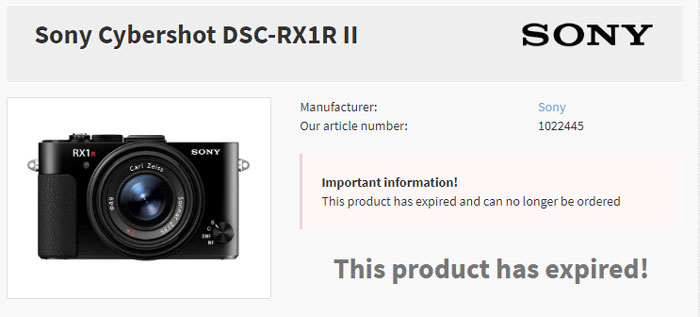 Sony RX1 R II camera finally discontinued by a Swedish retailer, it's a kind of silent confirmation that Sony is clearing up the stock pipeline for its next Fullframe Compact Camera, Sony RX1 R III announcement.
A while ago we got some hints about the replacement of Sony RX1R II camera. The camera is said to have built-in 5 axis IS and improved video codec. However, there are also some speculations about introduction of Sony's Medium format sensors.
The Sony RX1R II was announced on Oct, 2015. The tech inside the Sony Sony RX1R II, (Amazon | B&H) $3.2K camera is bit old and the camera remains limited to Full HD video recording as well as it doesn't feature Built-in or optical IS.
We will update you soon as we get any new information.
Sony A7S III to Have 4K 60p, 4:2:2 10-bit and Bigger Battery Life
Follow us on our social pages  FACEBOOK | TWITTER | INSTAGRAM, If you have time –>see more Sony Alpha Rumor.