Sony NEX 5N comes with new large APS-C size 16.1 MP Exmor APS HD CMOS image sensor and Olympus EP3 have fast AF with 35 AF points, which one you will buy? is image quality is more important or Fast Auto-focus? Sony NEX 5N vs Olympus EP3 specification comparison review, which one is more better and why, Read the review below
Buy Sony NEX 5N from Amazon
Buy Olympus EP3 from Amazon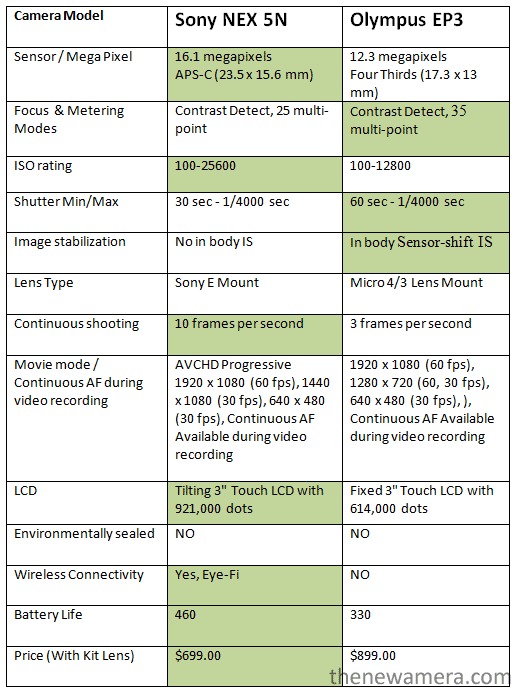 Sony NEX 5N have bigger sensor and better sensor with more ISO range, The NEX 5N sensor will give you more dynamic range in your landscape images and more Depth of Field in portrait shots, the NEX 5N high ISO range helps you get stunning noise free images in low light condition.
The 3.0-inch tiltable Live View touch screen LCD Tilts down 45° and up 80° to frame high- and low-angle shots  and will give more flexibility while composing your images, the NEX 5N features 10 fps continuous shooting at full 16.1 MP resolution.
Olympus EP3  m4/3, the Olympus EP3 features FAST AF with 35 AF points, The Olympus EP3 features in body image stabilization, It will give you clear pictures at night before hand-shake starts to ruin your pictures.
Conclusion: The Sony NEX 5N with APS-C Sensor is more featured rich and Recommended.
Buy Sony NEX 5N from Amazon
Buy Olympus EP3 from Amazon
---
Support New Camera
Buy Music CD or Digital Camera at amazon it helps this site, and you do not pay anything extra, it is just a way to help support this site.