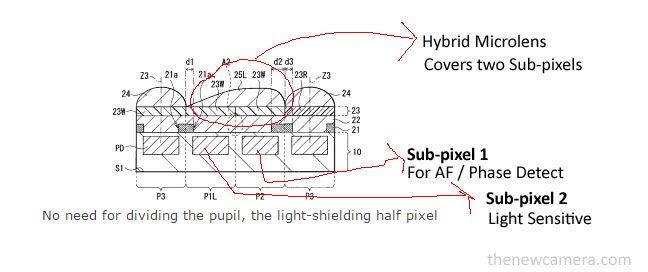 Sony patented a Hybrid Micro lens, the micro-lens of the latest Sony sensor is composed to two sub-pixels, one pixel is dedicated for auto-focusing and the other pixel is light sensitive.
The main objective of Sony is to remove the light blocking pixels from the sensor. If all the micro-lenses of the sensor are photosensitive than the camera will give fast contrast AF and neat High ISO images.
Description, self-interpretation of the patent literature
Patent Publication No. 2015-153975

Published 2015.8.24
Filing date 2014.2.18

Sony

 

patents

Microlens is formed over two or more pixels
The first pixel for focus detection
The second pixel imaging
Micro lenses as viewed from the first pixel are inclined
The optical axis of the microlens is in a second pixel
Canon Dual pixel CMOS AF tech is a excellent technology that eliminates the problem of dead-pixels inside the sensor, to know more click here.
Also see –  Sony Multilayer Hybrid AF Sensor Patent
source- egami