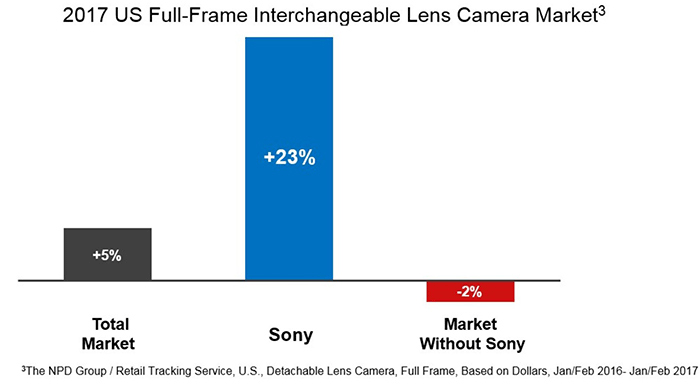 It's a good news for Sony followers and fans that in United States of America, Sony has become the 2nd best Fullframe camera  manufacturer just after Canon and unfortunately due to low sales Nikon dropped to third position.
The biggest key point that we should consider while looking at these ranking is Sony replaced DSLR maker with their mirrorless product and that's a fact. It's a clear indication that people nowadays are more conscious and preferring high-end compact system camera low price tag.
Press Release
SAN DIEGO, April 14, 2017 /PRNewswire/ — Sony Electronics – a worldwide leader in digital imaging and the world's largest image sensor manufacturer, has announced today that their continued growth has vaulted them into the #2 overall position in the U.S. full-frame interchangeable lens camera market. 1
Sony's interchangeable lens cameras and lenses have seen record sales in 2017, in particular within the U.S. full-frame camera market, where they have experienced double-digit growth (+23%) 2 compared to the same period last year.  The popularity of key models including α7RII and α7SII has been paramount to this success.
Additionally, Sony's rapid growth has helped to drive growth of the overall full-frame interchangeable lens camera market compared to the same period last year.  Without Sony's contributions, the full-frame market would be facing a slight decline. 3
"Our commitment to the industry is stronger than ever," said Neal Manowitz, VP of Digital Imaging at Sony North America. "We are always listening to our customers, combining their feedback with our intense passion for innovation to deliver products, services and support like no other."
A variety of exclusive stories and exciting content shot Sony α products can be found at www.alphauniverse.com , Sony's community site built to educate, inspire and showcase all fans and customers of the Sony α brand.