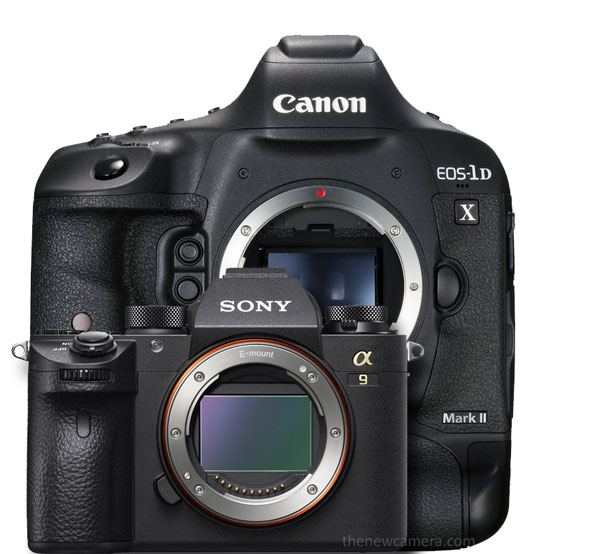 We are comparing Canon 1dx mark 2 camera with newly announced Sony A9 mirrorless camera. But, before comparison between Sony A9 and Canon 1DX Mark II, you should know that Sony A9 is the ultimate mirrorless camera ever built by Sony. The Sony A9 camera features newly developed stacked CMOS sensor. The other major improvement is introduction of ultra high-density auto focusing system that composed of 693 points and covers 93% of the screen.  ISO range of the camera is also very good despite of looking at the real world comparison and analysis we can say that, we can say that the image quality of this camera will surpass the image quality of existing A7 R2 camera, which is best in it class.
Let's talk about the design difference between both the camera .
Canon 1dx Mark II is little bit bulky heavy compared to the A9 camera. We do feel that light and smaller cameras are easy carry in long run,  despite being smaller  the Sony A9 features all the extensive manual controls that allow users should get  to compose and click a perfect shot.
Looking at the top panel of both the camera you will going to miss the extra information display panel that you get with the Canon 1dx mark 2 camera. The top LCD display of the DSLR give detailed information about the DSLR settings all the time,  and it has become a habit of many professionals to look at the top information display unit every time while adjusting the setting.
From design and weight comparison it seems to be Sony A9 will be more superior and easy to use compared to Canon 1dx Mark II in long run,  but we also understand that digital camera design or weight doesn't have any affect on the image quality. Even a light and compact camera can produce better image quality than heavy camera with more complex design.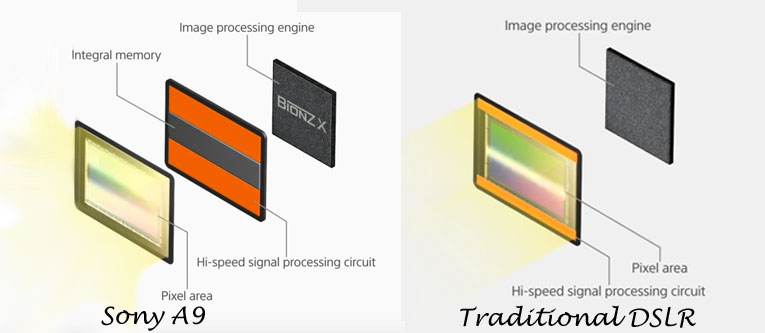 Sensor size comparison (Stacked / Dual layer vs Traditional)
The sensor size of Sony A9 camera is slightly smaller than Canon 1dx Mark II.  Despite being smaller the Sony A9 camera features 24 Megapixel FF sensor where is Canon 1dx Mark II features 20 MP sensor.  it's all known that Extra 4 megapixel will going to help during large prints and crops whenever it required. so, it's A9 slight advantage over Canon 1dx mark 2 camera.
Technology used inside the image sensor of both the camera
Sony A9–  Sony A9 is world first camera to feature Stacked full frame CMOS sensor. The sensor of Sony A9 camera is composed of two different layers the first layer of the sensor is pixels that  absorb the light from the lens. The second layer of the Sony A9 sensor is composed of buffer memory and frontend LSI Processing Unit.
Canon 1dx mark 2 camera uses traditional  full frame sensor design.  But despite of using a traditional CMOS sensor design in its year old Canon 1dx mark 2 you get one more stop ISO range with Canon. The ISO range is one stop ahead then recently announced Sony A9 Mirrorless flagship camera.
Sony A9 camera Does 20x faster read out compared to Sony A7r II camera.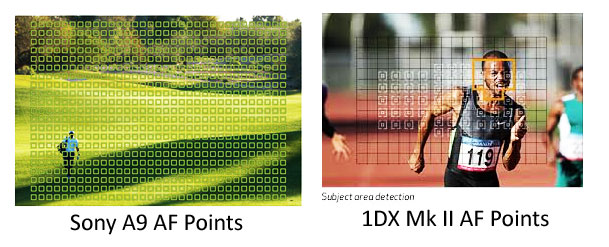 AF System (699 vs 61)
Before we begin we must know that the Canon 1dx Mark II DSLR is based on two different types of AF systems. Yes, it is true that every DSLR camera of Canon uses a hybrid sensor as well as a dedicated Phase AF module inside it.
When you are using viewfinder of Canon 1dx mark 2 camera then its Phase AF  module composed of 61 points become active and when you are using live view display of the camera OR you are recording a video from your Canon 1dx mark 2 camera then dual pixel CMOS a system of Canon 1dx mark 2 camera gets activated.
Dual pixel AF – Canon 1dx mark II camera utilizes sensor based dual pixel CMOS AF technology divides every pixels into two sub pixel.  Then every sub pixels works in synchronisation to calculate the lens drive required to achieve Autofocus. So, if you look at Canon 1dx Mark II system then in 20 million pixel sensor each pixel Divided into two sub pixels that works to achieve auto focusing quickly.  The best thing about dual pixel CMOS AF system, there are no dead pixel dedicated for AF.
If we compare both the camera AF System based on specification sheet then for sure Sony A9 auto focusing system is far better than Canon 1dx mark 2 camera,  Sony A9 camera 693 AF points covers 93% off the screen.  The speedy subjects will remain under AF coverage,  and with  continuous shooting speed of 20 frames per second, Sony can grab 6 more (14 vs 16) frame compared to Canon 1dx mark 2 camera sports mode.  Sony does have Upper Hand  in AF system.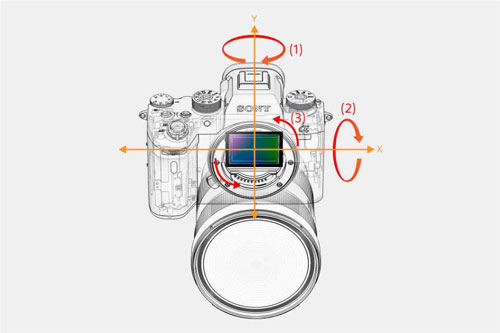 Image Stabilization System (In body IS vs None)
One of the biggest advantage that Sony A9 user get is built in 5 Axis image stabilization system.  currently no DSLR either Canon or Nikon features built-in image stabilization system just like Sony Alpha series mirrorless camera.
Using a built-in 5 axis image stabilization system works very well while you are shooting video as well still shots..So, either you are using native lenses with Sony A9 camera or you are using third party lenses, the Sony A9 camera the five Axis image stabilization system always active.
The five Axis images stabilization system really helps when you need slow shutter speed during low light condition. Sony A9 IS effective up to 5 stops,  which will going to really help you  when you are shooting a wedding or any night event with your fixed Prime lenses OR 24 to 70 standard zoom lens.  If you pair your Sony A9 camera with IS lenses then they will work in synchronization with each other.

Continuous shooting (20 vs 14)
Continuous shooting (20 vs 14) speed is the section where Sony A9 outperforms all the current flagship  DSLR and mirrorless cameras.  As the specifications says Sony A9 is capable to shoot continuous still shots of 20 frames per second at full resolution with continuous autofocus in support.
Canon 1dx Mark II camera remains limited to 14 frames per second while shooting with autofocus support. While Canon 1dx mark 2 camera can also shoot 16 frames per second without any autofocus support.
If we compare both the cameras in Sony A9 offers you extra 6 frames per second with continuous AF support, whereas Canon 1dx Mark II remains limited to 14 frames and can be pushed upto  16 frames per second without AF support.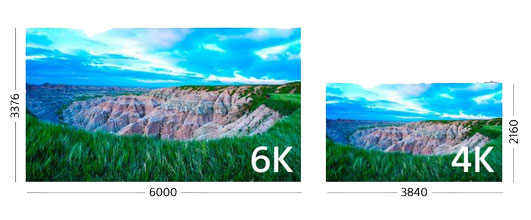 4K video
Canon 1dx Mark II camera offers you to record DCI 4K videos at (4096 x 2160) higher resolution compared to Sony A9 @ 60 frames per second whereas the Sony A9 camera records 4K at bit lower resolution compared to 1dx Mark II limited 30 frames per second.
The other side of the story is you get 5 axis IS support while recording video from your A9 camera as well as 699 AF points covers 93% of the video screen that will allow you to do blazing fast AF in no time.
The biggest advantage of Sony A9 camera is it does Full-pixel readout (6K) with no pixel binning. Sony A9 Records 6K video and then camera system does a lossless comparison to make 4K. Hence in-turn you get excellent dynamic range, less noise as well as well as better color contrast.
Other advantages of Sony A9
Let's talk about some other advantages of the recently announced Sony A9 camera .
One of the biggest advantage you get is articulating display screen with the  A9 camera whereas the Canon 1dx mark 2 features fixed LCD display.
We have already mentioned that Sony A9 camera is lightweight, 673 gvs 1530g
Price difference – Sony A9 is way more affordable compared to Canon 1DX Mark II camera, $4,498 vs $5,999.
Other noticeable advantage of Canon 1DX Mark II
Canon 1DX Mark II camera high resolution display screen, you get more battery life on single recharge compared to Sony A9.
Shortage of High-end lenses – many professional who are already using Canon Lenses and DSLRs may feel suffocative. Since Canon have 190+ professional FF lenses whereas Sony remains limited to approx 30 lenses only.
Conclusion:  Sony A9 is a Marvelous Fullframe camera and it's overall core specification is better than of Canon 1DX mark II camera. Being said that, Sony still have limited number of high-end lenses as well as global support and service centers. If you are a looking for world best mirrorless then go an get Sony A9.  Canon user you can get FotodioX to use EF/EF-S lenses on Sony A9 camera.
Get you A9 from Amazon | B&H Store
Buy Canon 1DX Mark II from Amazon || buy Canon 1DX Mark II from B&H