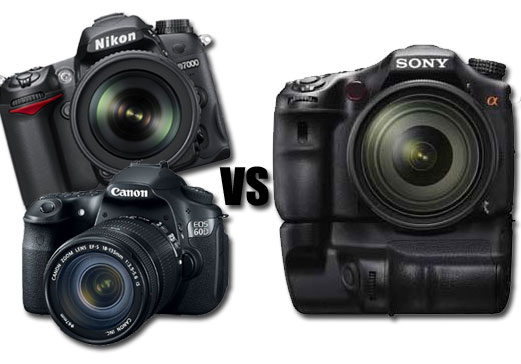 Update – Sony A77 Finally Announced and have same specification as listed below, Sony A77 is the World's fastest DSLR at the moment.
Sony A77 vs Canon 60D vs Nikon D7000, Sony A77 Specification Comparison With Canon 60D and Nikon D7000. Who wins here have a look.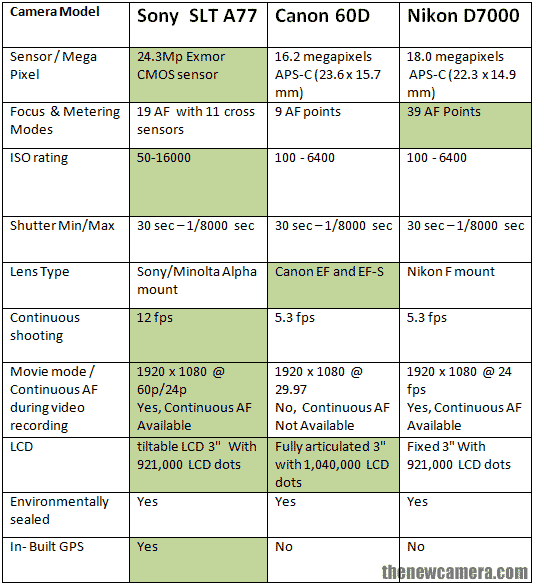 Sony A77 Features a better sensor, better ISO range, 12 fps of continuous shooting, Full HD Video Recording at 30 & 60 fps, Environmentally sealed body and In Built-GPS.
The A77 looks feature-packed and has excellent photo and video quality, both Canon 60D and Nikon D7000 can't match on the video quality. Sony A77 also feature in-Body Sensor-shift Image stabilization, The price of Sony A77 will be similar to Canon 60D and Nikon D7000.
Update – Sony A77 Finally Announced and have same specification as listed below, Sony A77 is the World's fastest DSLR at the moment. || Buy Canon 60D at Amazon || Buy Nikon D7000 at Amazon