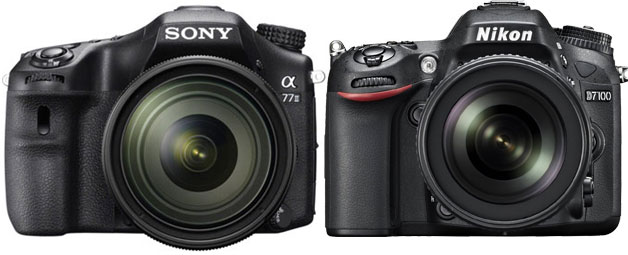 Both camera features excellent core specification and shares same APS-C sensor format, the price of both the camera are exactly the same… take a look at the specification comparison review and see who wins…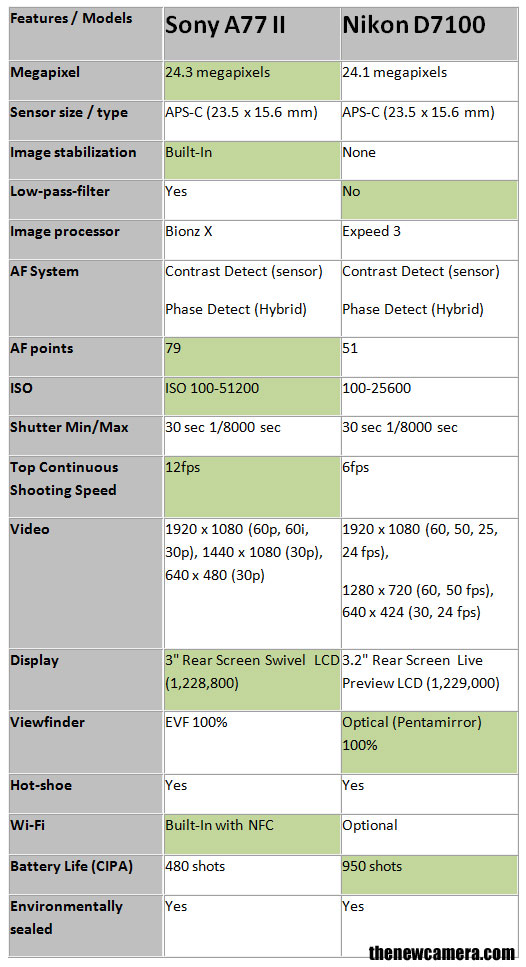 Sensor: The Sony A77 II sensor delivers better ISO range and more resolution compare to its competitor, the ISO range of Sony A77 II is 100-51200 and Nikon D7100 ISO range limited to 100-25600.
Image Stabilization : No matter what type of lenses you use, the A77 II offers in body image stabilization, The Nikon D7100 don't have in body image stabilization, you have to buy VR lenses to fight camera shake.
Low-pass filter: Without low-pass filter the Nikon D7100 will sure give you more details in images compared to A77 II. (when viewed at 100%).
AF System: Technically the Sony A77 II does fast Auto focus since the camera is made with SLT technology, the A77 II uses phase and contrast based system at the same time and uses a total of 79 AF points to quickly acquire the focus, on the other hand the Nikon D7100 uses phase AF system with 51 AF point and contrast based system becomes active when you are using LCD live-view display for shooting your images.
Continuous shooting: Without losing a fraction of second the A77 II shoots blazing fast continuous shots @ 12 fps and Nikon D7100 limited to 6fps.
Display: With A77 II you get Swivel LCD display on the other hand Nikon D7100 comes with fixed LCD display.
Connectivity: The A77 II features WiFi connectivity with NFC (near field communication), you cam share your images witlessly to your network and you can also use your smartphone or tablet to shoot images from a distance. No such facility available in Nikon D7100.
Verdict: The Sony A77 II is a clear winner and a excellent camera based on specification comparison review, but with Nikon D7100 we get a huge amount of high quality lenses to choose from… and without optical low-filter we will get super sharp images when viewed at 100%.
Buy A77 II from Amazon || B&H || Adorama  |||| Buy Nikon D7100 from Amazon | B&H