Sony A77 II vs Canon 70D, Sony A77 II is recently announced professional APS-C camera and Canon 70D is a approx 1 year old semi-professional APS-C camera from Canon, take a look at the specification comparison below.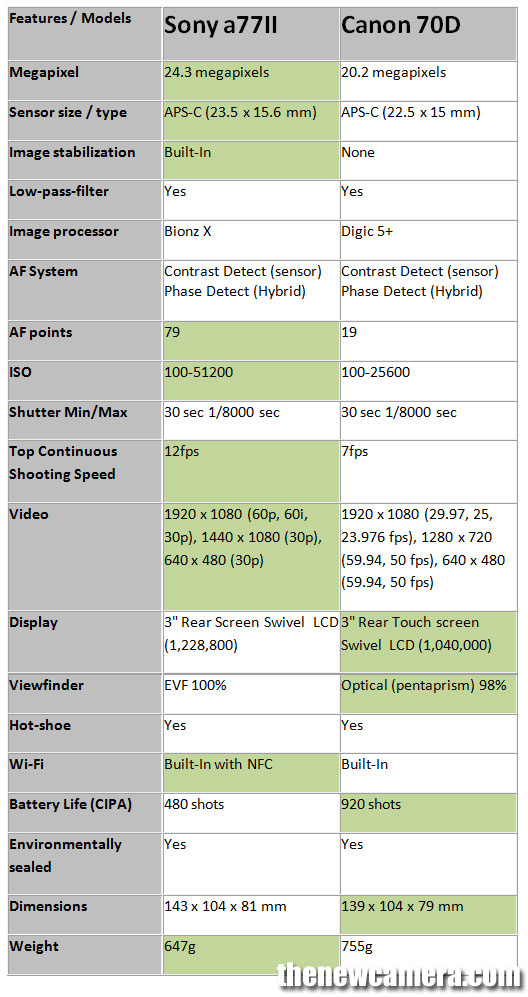 Sony A77 II has more  resolution + more ISO range compared to Canon 70D. But the more ISO range is not so useful as we can clearly see in the High ISO Test the Canon 70D showing more details.
AF System:
Both System features HYBRID AF system but the Hybrid AF system in both the camera implemented in a different way.
The Sony uses SLT technology, in SLT technology uses fixed translucent  mirror above the sensor and approx 20 – 30% of light transferred to the AF sensor and rest of the light goes to image sensor, the fixed mirror-technology compromises with image quality but gives you very fast AF and continuous shooting speed.
The Canon 70D uses Dual Pixel CMOS AF technology, the Canon 70D sensor integrates two separate photodiodes within each pixel to provide a broad and dense network of phase-detection gathering elements to help reduce focusing time required by traditional contrast based system camera.
Canon 70D AF points are less than Sony A77 II, and the other most important part is continuous shooting speed, Sony A77 II is can shoot 12 frames per second at a bit higher resolution , Canon 70D is limited to 7 fps only.
Video: Sony A77 II can shoot full HD videos @ 60fps on the other hand Canon Full HD mode is limited to 30fps only.
Display: 3.0″ 1,040k-Dot Vari-Angle Touchscreen, you can also shoot your subject just by tapping on the screen, Sony A77 II comes with 3.0″ 1,228k-Dot 3-Way Tilting LCD Screen (no touch control available in A77 II).
NFC in A77 II: Sony A77 II is bit more social camera compared to Canon 70D since it comes with built in NFC, so you can syn. any of your smart device to shoot form a distance.
I have added one pic only to show the image quality difference, the Sony A77 II image is down-sampled to match with Canon 70D.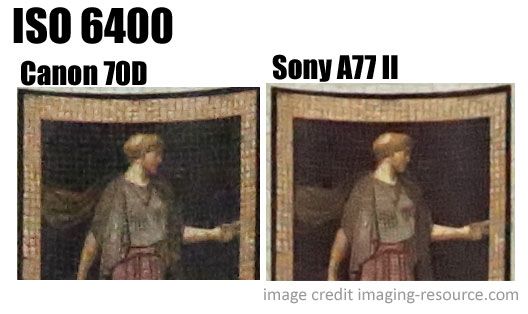 Canon 70D showing natural colors with more details compared to Sony A77 II, why Sony A77 II is showing bit more reddish hue in the image ?
Verdict: For sports shooter and Videographers we highly recommend you to buy Sony A77 II, if you are a still shooter we recommend go with Canon 70D.