Sony A7 vs Sony A7r comparison review – Just few days ago Sony announced A7 and A7r fullframe mirrorless camera with excellent core specification, Sony is shaking the camera world from 2012 by announcing class leading innovative products like X series compact cameras,  smartphone attachable lens-Style Camera and now FF Mirrorless.
Now take a look at the major specification difference in the table below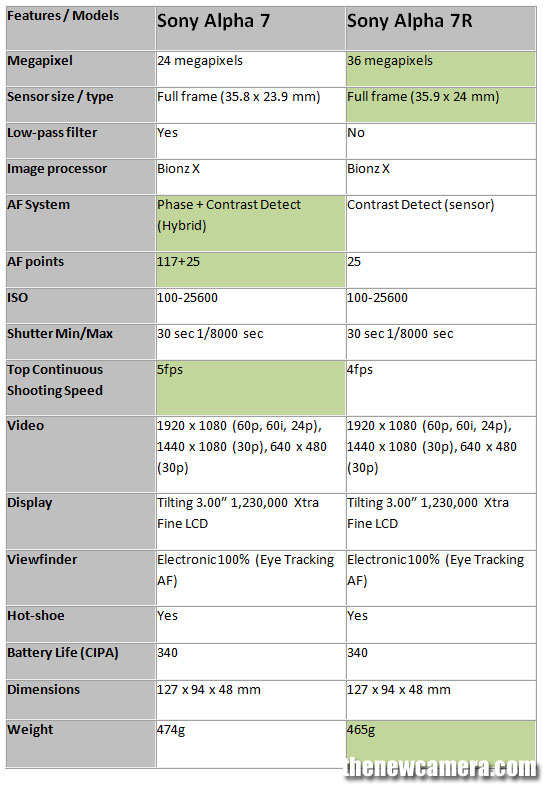 The Major difference we see in both the camera are
#1 Sensor
#2 AF System
#3 Electronic front curtain shutter in A7
#4 Fast top continuous shooting speed in A7
#5 Price difference
#1 Sensor: The Sony A7 features 24 Megapixel FF sensor and on the other hand Sony A7r features 36 Megapixel FF sensor, Obviously the sensor of A7 will give cleaner result at high ISO range due to larger pixels / photodiode inside it.

#2 AF system: as we have said earlier Sony A7 features Hybrid AF system that combines Phase + Contrast detect system, 117 phase AF points + 25 contrast detect AF points available in A7, on the other hand Sony A7r features Contrast detect system with 25 AF points only, naturally AF system of A7 is fast compared to A7.
#3 electronic front curtain shutter in A7:  The A7 comes with electronic front curtain shutter, so you get (better) 1/250 flash sync speed with A7 on the other side A7R is limited to 1/160.

#4 Fast top continuous shooting speed in A7: Due to less resolution in A7 the image processor is able to process more files at a given time compared to A7r.
#5 Price: Sony A7 cost $600 less than Sony A7r.
Verdict: We recommend you to buy Sony A7, since A7 features better AF system, better low-light performance, Electronic front curtain shutter, bit Fast continuous shooting speed and $600 approx less price, A7r only recommended for Landscape, Architecture and Fashion photographers, those who have more control over light and don't need fast AF system.
Buying Options
Sony A7 [Body Only] – $1,698.00 – Amazon | B&H
Sony A7 w/ 28-70mm lens – $1,998.00 – Amazon | B&H