The high ISO test between Fuji X-H1 camera and the Sony A7 III done by pro youtuber Max Yuryev. let's talk about the basic difference in specification and price of all the camera.
For your information we know that the Fuji x-H1 is actually APS-C sensor based camera and the Sony A7III is a full frame sensor  camera. So we have a clear advantage that we are getting more imaging area to collect the light. let's talk about the major difference between the two, Sony A7 III have already have high density 693 point based focusing system that'd coming from the flagship Sony A9 camera. where is the Fuji X-H1 camera have 425 AF points.
The battery Grip – On of the most important thing for Fuji is battery grip, without battery grip the camera isn't able to go beyond 15min of recording limit but with the Sony A7 III you don't have such limit either in 4K, or when you are recording FHD videos @ 120fps.. all formats of Video can be recorded upto 30min. Keep in mind when you are recording FHD @ 120fps with Fuji without battery grip you get only 6min of recording limit.
With Battery grip Fuji cost more than Sony A7 III
Before we end this I must tell you that you get lots of customization and controls with Sony A7 III camera, you can tweak from the basics like tuning saturation or you also have a option to choose from many gamma and colour curves, including S-Log2, S-Log3 and HLG (Hybrid Log Gamma) directly coming from Sony Alta.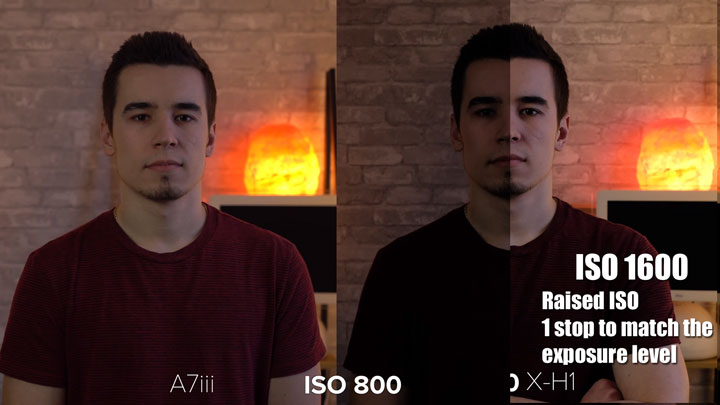 Video test between Sony A7 III vs Fuji X-H1
Fuji cameras generally captures underexposed images / videos. As you can see in the screenshot after raising 1 stop more the ISO. The exposure level of the X-H1 camera matches with competitor. So, to make the competition more fair and to match the  exposure level of both the camera Fuji ISO kept 1 stop more than of Sony A7 III.
For detailed comparison You must look at the Video below by having at least Full HD
Do, share your thoughts and suggestion with us.
Fuji X-H1 camera from Amazon.com | B&H Store
Get Sony A7 III camera from Amazon