Finally, the first still High ISO test report of the Sony A7 III camera published by dpreview. Take a look at the high ISO test between Sony A7 III, Sony A7R III, Nikon D750 and Canon 5D Mark IV.
Sony A7 III vs Nikon D850 vs Sony A7R III vs Canon 5D Mark IV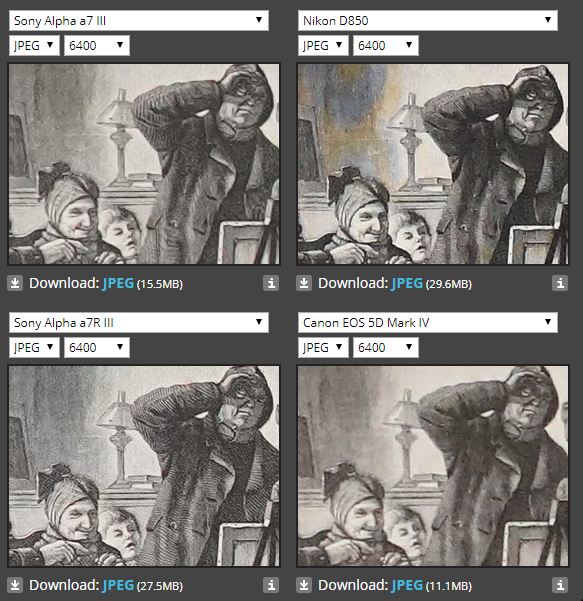 As you can see the Sony A7R III is still a best choice for still work since you get a lot of details with high resolution sensor. Despite of having a weak filter inside the Sony A7 III camera the level of details isn't similar to A7R III due to less resolution.
Nikon D850 is showing unusual color noise on BW image which is unacceptable. However the details are visible and moire is also very well controlled.
And finally we have the Canon 5D Mark IV camera. As we know that Canon cameras do have built-in OLPF and so we are not able to get the 100% details of a subject when compared to Camera without low-pass filter.
Sony A7 III Color noise test
As you can see clearly Sony A7R III and Nikon D850 color noise levels are well controlled compared to Sony A7 III . Despite of being a canon user for a long time, I have no hesitation is saying that Canon 5D Mk IV is suffering from a lot of color noise and loss of details.
Sony A7III is definitely one of the best  camera ever announced by Sony. I do have some issue but despite if that you are getting a lot features in $2k camera.
Follow Sony A7 III page at Facebook for latest updates
stay with us (FACEBOOK | TWITTER | GOOGLE+) If you have time –>see more Sony Alpha Rumor.