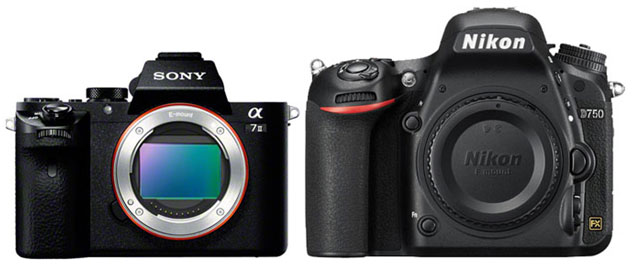 Take a look at the core specification comparison of the Sony A7 II and the Nikon D750 camera, In the first look we see the Sony A7 is more compact and easy to carry machine compared to the big and bulky Nikon D750 camera… take a look inside for more difference between…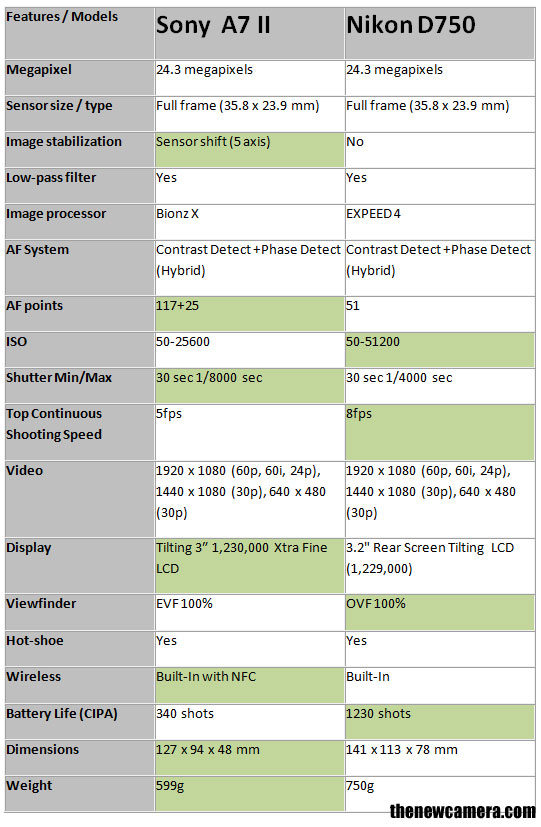 Before we start we we must assure that both camera is n0t using the same sensor, since Nikon does have a habit of using Sony sensor but the internal architecture of both the sensor is completely different.
Sensor
The Sony A7 II sensor is built with active phase AF points inside, the A7 II sensor features Enhanced Fast Hybrid AF that includes 117 phase detect AF and 25 contrast detection points.
The Nikon D750 sensor is a traditional one and features no active phase AF pixels inside, the camera have a different AF module (Multi-CAM 3500FX II) having 51 AF points and works only when you are using Viewfinder. The Contrast AF system is active while you are using display screen and recording videos.
Image Stabilization:
The Sony A7 II is world first fullframe mirrorless camera features Sony made 5 axis image stabilization system, if you are using long focal length lenses it will correct pitch and yaw adjustments, if you are using macro lenses it will correct horizontal and vertical shift compensation, the 5 axis will work in almost all types of lenses (including the third party lenses), also you can see the image stabilization system preview when you press the shutter button halfway.
Native ISO vs Expendable ISO
The Native ISO range of Nikon D750 is limited to 100-12800 and the expandable range of Nikon is 50-51200, Sony A7 II native ISO range is 100-25600 and expendable ISO range is 50-25600, so theoretically Sony should perform better.
Shutter
The continuous shooting speed of Sony A7 II is limited to 5 fps at full resolution, the Nikon D750 offers continuous shooting speed upto 8fps at full resolution.
OVF
I always orefer optical viewfinder over the EVF, it delivers realistic image to eye .. however its my choice.
Connectivity
The Sony A7 II offers built-in WiFi and NFC connectivity, it allows you to wireless transfer you files among remote devices and also allow you to use your smartphone to operate camera from distance aka remote shooting.
Verdict:
Based on specification comparison review we highly recommend you to buy Sony A7 II camera, however if you are Nikon system user then you may go with Nikon D750.
Buy at Amazon A7 II camera [Body only] A7 II camera [28-70mm]