Sony A5100 vs A5000, the design and size and shape of both the camera is quite similar. Now take a look below for the core specification difference,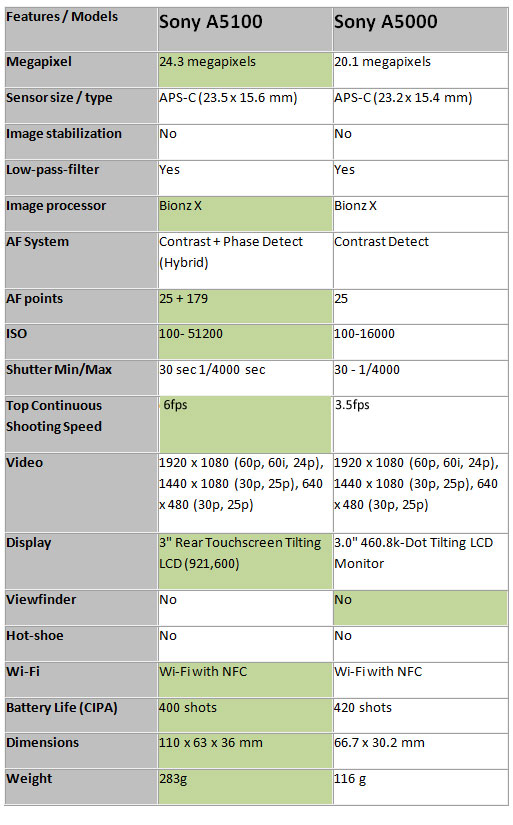 As we can see clearly that the Sony A5100 comes with a new Hybrid Sensor (same as of Sony A6000) that not only gives you more resolution but also comes with built-in active phase AF pixels inside it, the A51000 features dedicated 179-point phase-detection system and 25-point contrast-detection system to get precise focus in short time of as little as 0.07 sec.
The ISO range is also improved, the A5100 now offers ISO range of 25600 and Hand-held Twilight Mode boost ISO upto 51200. The increased ISO range of Sony A5100 will help you to get perfect low-light images.
Introduction of XAVC S format in Sony A5100 will attract video shooters buy its Lacks an external mic, same as of its predecessor.
Fast continuous shooting mode, The A5100 offers continuous shooting speed of 6fps and on the other hand the A5000 limited to 3.5 fps only.
The Sony A5100 offers touch screen display, so you can easily shoot your images just by tapping on the screen .
Verdict: We highly recommend you to buy the new Sony A51000 mirrorless camera, since it features new hybrid sensor that gives you more ISO range and advance AF system.