Sony A3000 vs Nikon D3200 Specification comparison, Sony Just announced the entry level E-mount mirrorless DSLR styled camera, the specification of the Sony look very impressive compared to other DSLRs of the same segment, take a look at the comparison review below…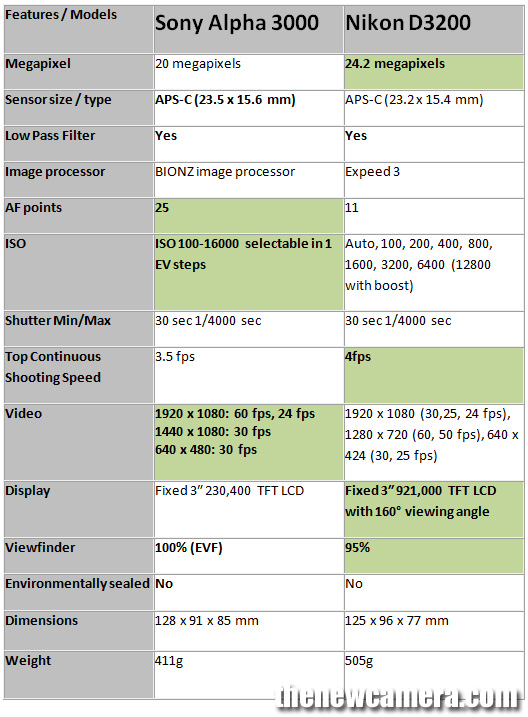 Sony A3000 features excellent core specification compared to the Nikon D3200 DSLR,
Best in Sony A3000
1. Better low light performance – Sony entry level Mirrorless DSLR styled camera features amazing ISO range, the ISO range is upto 16000, Nikon D3200 is limited to 12800 only. (Keep in mind that Nikon D3200 also uses Sony Sensor)
2. More AF point: Sony A3000 have better AF system compared to Nikon S3200, Sony features 25 AF points and Nikon D3200 features 11 AF points only.
3. Better Video Mode: Sony A3000 Supports Full HD Video capture mode @ 60fps frame rate, Nikon Full HD is limited to 30 fps only.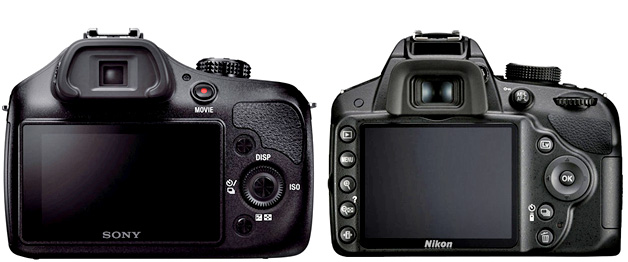 Why Nikon D3200 is Better ?
1. More Megapixel (20 vs 24) – More megapixel compared to Sony A3000, The D3200 sensor size is bit smaller than Sony but it offers more megapixels.
2. Bit Fast Top Continuous Shooting Speed (3.5 vs 4 fps) – Nikon D3200 features 4fps of shooting speed and Sony A3000 limited to 3.5fps only.
3. High Resolution Display – Nikon D3200 features High-Resolution display compared to Nikon D3200.
4. Optical Viewfinder – Nikon D3200 offers optical viewfinder, Sony have EVF.
 Other features – Nikon D3200 features external mic jack A3000 is missing, Sony A3000 features Auto HDR mode and Dynamic Range Optimizer (DRO).
Price Difference: Nikon D3200 DSLR Price is $540 | Sony A3000 price is $398
Verdict: We highly recommend you to buy Sony A3000
Buy Sony A3000  from Amazon | B&H
Nikon D3200 available at Amazon | B&H | Amazon UK

---
Also see: Sony A3000 Recommended Lenses | Nikon D3200 Recommended Lenses