When Sigma announced its SD1 digital camera its price was $9,700 now listed at $6,899.00 at B&H Store with a tag of "New item – No arrival date known".
The Sigma COO, Kazuto Yamaki, responded on Twitter to some photographers asking about the SD1 price, This is his Twitter account.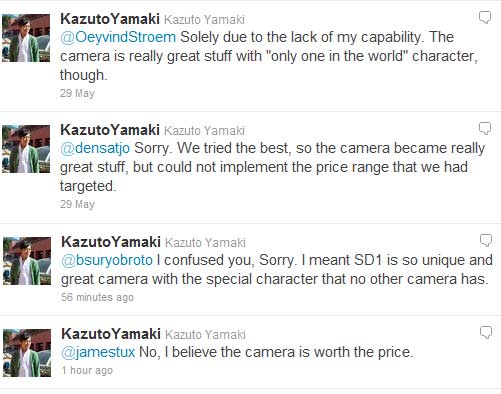 Read What dpreview members talking about Sigma COO Tweet
If this is correct, my interpretation is:
"This really is a £2000 camera, you should judge it as a £2000 camera and compare it to £2000 cameras but owing to our engineering difficulties, it's going to cost you £6,000. Sorry about that."
So we are back to: who will buy a camera that is 3 or 4x over-priced owing to engineering problems. It was never meant to be a MF or D3x competitor, yet it ends up going up against them.
Dead in the water, surely?