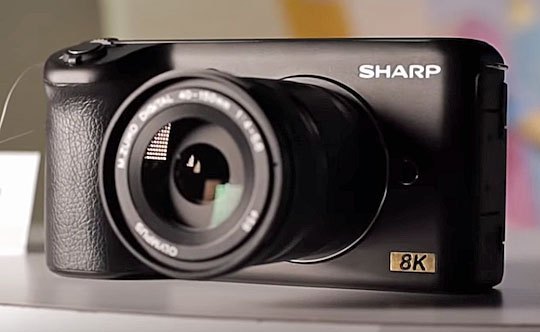 Finally SHARP also joined the M4/3 camera group today. And that also clearly indicates that official announcement of SHARP 8k camera is expected soon.
Sharp already showed us 8K camera during CES event 2019. Take a look at the major specification of the camera once again.
SHARP 8K M4/3 Mirrorless Camera Core Specifications
8k at 30 fps in H.265 codec (Sharp is working on 60 fps)
Price under $5,000
Micro Four Thirds format
5″ inch large touchscreen
1 SD card slot [only]
On sensor stabilization
Ultra Compact BMC design
Offifical Announcement on NAB 2019
For more click information related to upcoming Sharp camera also see – World First 8K M4/3 Mirrorless Camera Developed by SHARP
Sharp Joins M4/3 Group Press Release
Sharp Joins in the Micro Four Thirds System Standard Group
Olympus Corporation and Panasonic Corporation jointly announced the Micro Four Thirds System standard in 2008 and have since been working together to promote the standard. We are pleased to announce that Sharp Corporation has recently declared
their support for the Micro Four Thirds System standard and will be introducing products compliant with the standard.
As the driving force behind 8K imaging technology and a product developer, Sharp Corporation now supports the Micro Four Thirds standard. In the future, Sharp will add Micro Four Thirds products to their line-up. The possibilities unique to a joint standard will expand the enjoyment of imaging further.
As the company responsible for initiating both the Four Thirds System and the Micro Four Thirds System standards, Olympus will continue to develop and enhance the product line-up to meet the diverse needs of our customers.
About Sharp Corporation
Sharp Corporation is a worldwide developer of innovative products and core technologies that play a key role in shaping the future of electronics. As a leader in LCDs and digital technologies, Sharp offers one of the world's broadest and most advanced lines of consumer electronics, information products and electronic components, while also creating new network businesses. Sharp group employs 53,939 people around the world (as of December 31, 2018) and recorded consolidated annual sales of 2,427 billion yen for the fiscal year ended March 31, 2018.