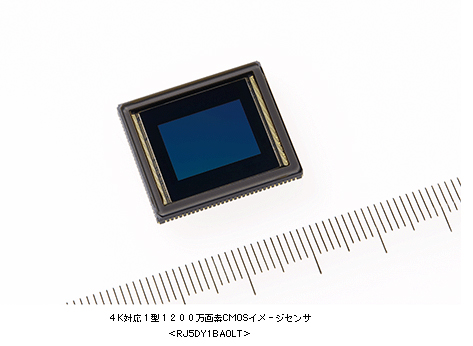 SHARP today announced 12 megapixel 1″ sensor that features 1420mV/lux-sec sensitivity (industry's highest sensitivity), 3.1μm pixel pitch, can capture 4K/2K video @ 60P and consume lower power.. and due to low power consumption the sensor will generate less heat.
The specification look better than Aptina sensors (rumored to be used in Nikon P8000 compact camera) and better than Sony RX100 M3 sensor and the good news is SHARP newly developed Sensor is ready for mass production and a total of 80,000 sensor will be produced every month.
Sample of newly developed 1″ sensor will cost your approx $192, if you want to have one you must contact SHARP.
Press Release
Develop <RJ5DY1BA0LT> 1200 million pixels CMOS image sensor type 1 digital video camera for that corresponds to the 4K movie shooting, was realized the sensitivity 1420mV / lux-sec of the industry's best, Sharp, will launch.
The 4K TV, along with the development of broadcasting infrastructure environment worldwide, spread is expected to expand. With the rise of this market, expectations for 4K support is growing even in the peripheral devices such as digital video cameras.
This image sensor, employs a large pixel cells of 3.1μm angle suitable for 4K movie shooting with an optical size of 1 inch. By utilizing the pixel cell proprietary technology, we have achieved the industry's highest sensitivity 1420mV / lux-sec. I will contribute to shoot sharp images even in dark scenes bright scene as well.
In addition, it is equipped with high-speed reading of the pixel signal, the circuit technology unique to digital conversion with less power. 60fps a 4K video ※ 3 when shooting in, we achieve low power consumption 420mW of industry-leading level. Because it is possible to suppress the heat generation of the image sensor by the low power consumption, as well as to contribute to the simplification of the thermal design of the onboard equipment, enabling high-quality shooting with low noise due to heat. In addition, it also supports still image shooting of 12 million pixels, you can also used as a digital still camera applications.
| | |
| --- | --- |
| Name of product | 12 million pixel CMOS image sensor type 1 |
| Model | RJ5DY1BA0LT |
| Sample price (tax included) | 20,000 yen |
| Sample shipment | August 21, 2014 |
| Mass production start | October 31, 2014 |
| Monthly number | A total of 80,000 |
Main Features
Taking advantage of the pixel cell technology and its own large pixel cells of 1.3.1μm angle,
to achieve the industry's highest sensitivity 1420mV / lux-sec
In response to the video shooting of 2.4K · 60fps, low power consumption 420mW of top-level industry
and contribute to high-quality shooting with low noise due to simplification / thermal heat dissipation design of onboard equipment
3. It is compatible with the still image shooting, it can also take advantage of a digital still camera applications
※ 20 of August 1, 2014. In the CMOS image sensor of the type 1 4K support. Sharp examined.
※ average output of G signal when a picture is taken using light source 2 color temperature 3200K, the optical system of F5.6.
※ abbreviation of 3 60 frames per second. A moving still images of 60 sheets per second.