Samsung today announced  its new flagship mirrorless camera NX300 with advance Hybrid AF system and 2d-3d Image and video shooting capability (when combined with Samsung's new 45mm 2D/3D lens). Samsung NX300 vs Samsung NX210 Take a look at specification comparison below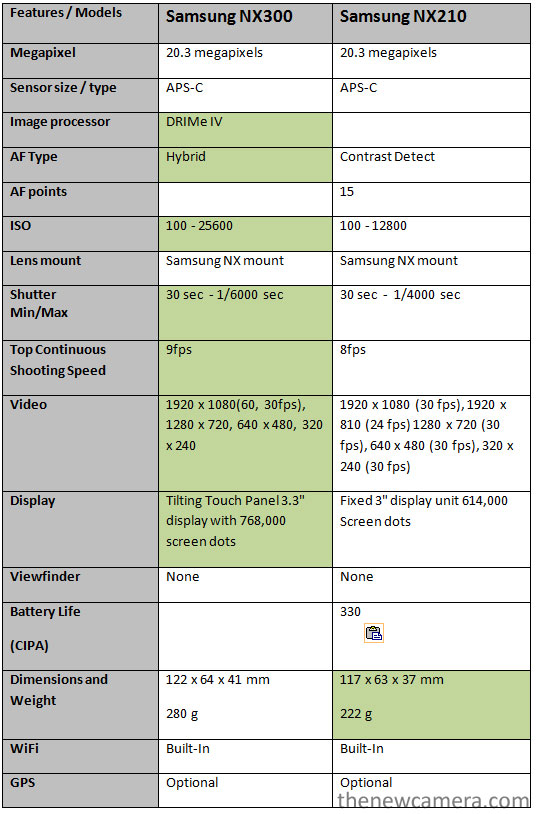 New in Samsung NX300 – Take a look at what new in Samsung NX300 Mirrorless camera.
Addition of AF points to the Sensor: Samsung added some AF points to its 20 Mp APS-C sensor to enhance AF system, but remember when some AF points added to sensor than we also loose image quality/low-light performance.
Introduction of DRIMe IV Image processor: With the introduction of new image processor we can see some noticeable changes (compared to NX210)
Increase in the ISO speed (up to 25600),
Recording of full HD movies frame rate extended to 60fps,
Continuous shooting speed increased to 9fps,
Max shutter speed also increased to 1/6000
Conclusion: Overall the core specification of the NX300 much better compared to the NX210, the new NX300 also gives you a option for shooting 2D-3D Images and Videos when combined with a 2D-3D 45mm lens.
We recommend NX300 over NX210. Current NX210 Still Shooters may wait for NX400 to see some major change in image quality.