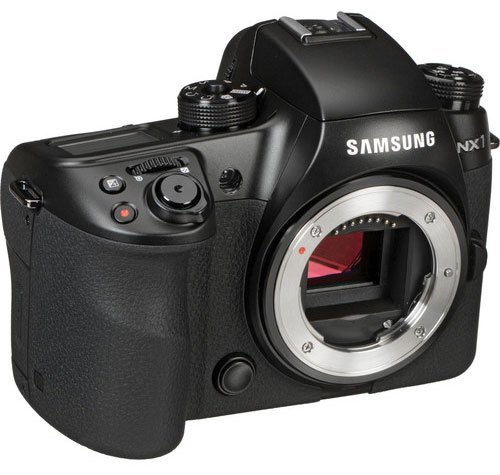 Samsung NX1 was the first APS-C camera to introduce DCI 4K video recording and 205 on chip AF point with 15fps burst, After low sales report Samsung closed its camera division and handed over all the further operation to mobile section.
According to latest rumors Samsung NX2 / NX1 successor do exist in Samsung lab and currently being tested with Exynos 9810 SoC. Now, at the time I am writing this article the Samsung Exynos 9810 SoC is a high-end system-on-chip and rumored to be used inside the upcoming Samsung Galaxy S9 and Galaxy S9+ flagship smartphones.
As the tipster says the new CPU allows the camera to record 4K video at 120FPS h/265 encode capability. Take a look at Rumored Specification of Samsung NX2 camera
Samsung NX2 Specifications
30,1 megapixels sensor (6720*4480)  (3-stack FRS) ISOCELL
Tetracell / dual-pixel AF. (AF is insane with combination of dual-pixel and 'Super PD')
accelerometer-based shutter / registers the G-forces (acceleration)
4K 120fps h/265 encode capability enable impressive framerates
– Full sensor (6720*4480) @ 30fps
– 5376*3024 @ 60fps
– 3840*2160 @ 120fps
– 2688*1512 @ 240fps
– 1920*1080 @ 480fps
Up to 120fps should be full sensor read-out, 2.7K and 1080p at higher frame-rates is 2×2 pixel binning and then down-sampling (so full width of sensor is used up to 480fps (!).
15fps burst with mechanical shutter
30fps RAW with electronic shutter.
Practically no read-out noise ', which is regular in-sensor phase detection.
 LTE-connectivity with eSIM,
GNSS (GPS, GLONASS, BeiDou) for location tagging,
SD 3.0 with UHS-II support for memory cards (up to 300 MB/s),
Bluetooth 5 for continuous low-power connection and
802.11ac with 2×2 MIMO for fast image- and video transfer.
USB 3.1 Type-C with DP enabled for uncompressed output up to 5K 30fps and 4K 60fps.
PCIe 3.0 x2 bus left if they decide to add something like a CFexpress card-slot, or Thunderbolt 3 or 10GbE.
This was one of the prototypes of the Samsung NX2 camera and and its is possible that more exist with variable ND, IBIS, HBM2-buffer.
Follow is on Facebook and Google plus, more update coming soon. | See more Samsung Rumors